Why can't fashion journalism do more to expand its shapes and sizes?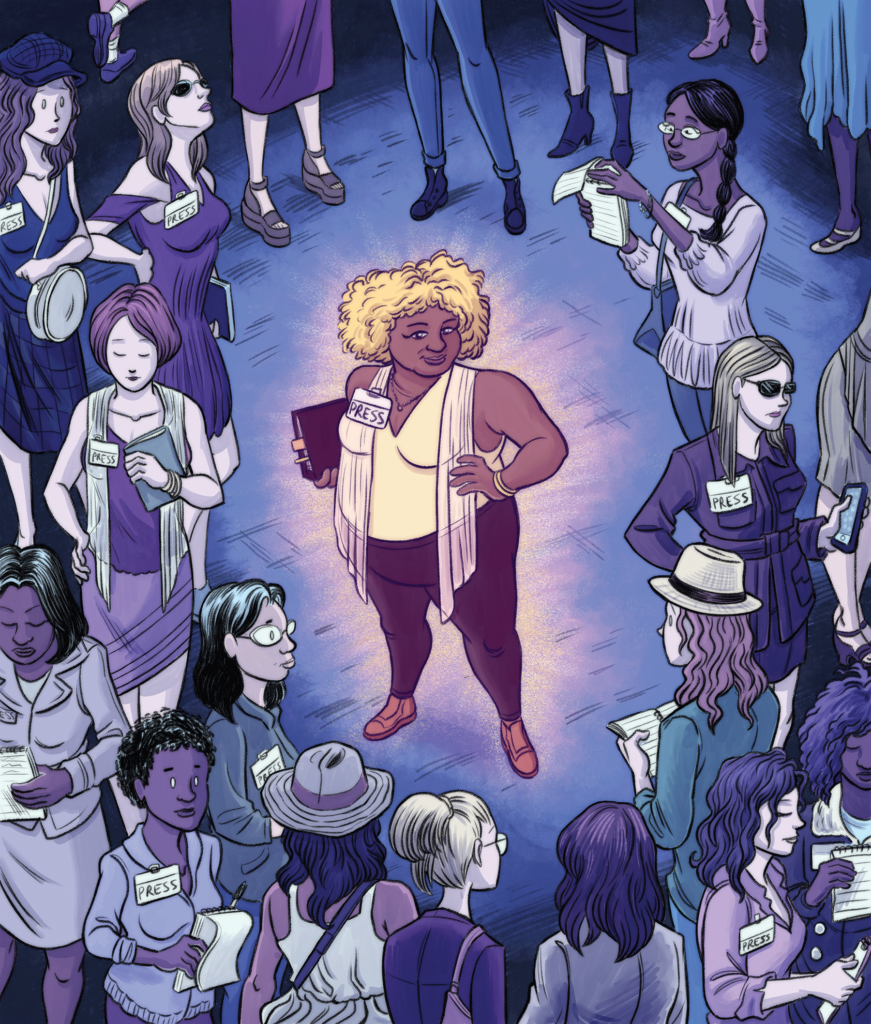 In 2015, Lora Grady, a Canadian beauty, fashion, and lifestyle journalist, was invited to New York for a product launch by a prominent beauty company. The event was packed with other lifestyle editors, dressed chicly in professional attire. Grady was looking forward to learning about the new products. She decided to check out a presentation by a hair-care brand. To Grady's surprise, the room was accessorized with an exercise bike and shelves of rolled-up, plush white towels, just like the ones handed out at spin classes. A brand representative—a thin, white woman—introduced a fitness expert, who explained the connection between physical fitness and healthy hair. Grady felt a rush of discomfort and left the presentation angry. No one else seemed perturbed. As the only plus-size journalist in the room, Grady was uncomfortable being ambushed by what turned out to be a wellness event. "I was excited to learn something new for my job but left that room feeling bad about my body," she says. "It felt like a slap in the face." Her alienation grew after the event as she attended more in the industry over time. There, Grady encountered very few plus-size fashion or beauty editors. "I felt really insecure, really self-conscious. I couldn't wear the same clothes that these editors were wearing because I couldn't shop at the same places."
Grady's body type remains an anomaly among Canadian fashion journalists, even in this era of so-called body positivity, a movement in lifestyle media and beyond that purports to accept all body types equally. Yet the dearth of Canadian fashion journalists with lived experience as plus size ensures that fashion and beauty journalism will continue to be produced through a lens of thinness. Despite efforts from media to include plus-size sources, the predominantly body-conventional Canadian fashion media fail plus-size audience members while reinforcing inaccurate ideas about plus-size people—that they are incapable or uninterested in being stylish, that they are unhealthy, and that they deserve to be excluded from the industry. In a June 2019 story by Global News, for example, the headline asked, "Can You Be Plus-Size and Healthy?" thereby making fatness fodder for debate. In March of the same year, CTV News ran a celebratory piece about a Nova Scotia woman who lost about 220 pounds. The author chose to mention that the woman had been suicidal as well. These kinds of stories perpetuate harmful stereotypes as well as the false narrative that plus-size people are, deep down, self-hating.
Even when straight-size journalists have good intentions, their distance from lived experience is often obvious. In her advice column for The Kit, Leanne Delap responded to a reader who asked, "Why Aren't Plus-Size Clothes Nicer?" Thoughtfully, and seemingly just as baffled as the reader, Delap wrote: "Most North American women—a majority at 68 percent of the population—are a size 14 and above. Yet designer fashion in plus-size ranges comprises 0.1 percent of the luxury market. There are literally billions of dollars to be made selling size-inclusive clothing! Instead, what we get is a disjointed marketplace that offers curvy women distracting colours and prints and baggy constructs instead of the classic colours and sharp-cut garments you crave."
Though Delap answered with empathy, the shopping suggestions she provided only went up to size 28 and 4X. To truly be inclusive would mean offering suggestions for consumers who identify as "superfat" (a term meaning sizes 26 to 32, popularized by the NOLOSE advocacy organization in 2008) and "infinifat" (a term coined by The Fat Lip podcast, meaning size 34 and up). "I see a lot of fat stigma in journalism," says Jacqui Gingras, associate professor of sociology at X University. "I see a lot of articles about body conforming [and] about the moralization of health and body size. I don't see a lot of size-affirming, fat-affirming, fat-liberatory work in journalism. We need to see more." Gingras says that while the direct, overt way fatness is written about in the media has evolved over the years, exclusionary sentiments remain common. "The language has changed, but the intent remains the same."
The problem goes beyond the written word and into the accompanying photography. Prior to singer Adele's well-documented weight loss, she appeared on the cover of Vogue, with little of her body showing. After her size became smaller, she was pictured on a cover of the magazine in a dress, with her neck, chest, and hands exposed. Singer Lizzo, who is plus size, has also had her own cover moments. She's been shot fully clothed by publications such as Vogue, The Cut, and Time, shoots that ultimately obscured her figure, even though she usually chooses outfits for herself that do more to reveal than hide. "Anything that suggests there is a norm and that some people are outside of it is inherently problematic," says Gingras. "This idea of a normative standard is not representative of our lived experience."
When it comes to visuals, Fashion magazine Editor-in-Chief Bernadette Morra points to exclusionary sample sizes supplied by designers as a barrier. "If we have a larger-size person [who] is beyond the [industry] standard, it's hard to dress them," says Morra. There are two issues at play: sample sizes in a wide range and beautiful plus-size clothes, according to Morra. "It's not because there aren't clothes out there. It's because of the sample sizes. Sample sizes from designers are absurd. It's frustrating for me as an editor, because I know whether a photograph is beautiful or not, and it has nothing to do with the size of the person," she says. In 2019, Elle Canada published a piece titled "8 Inclusive, Feel-Good Lingerie Brands." The photo that ran with the story was of a thin, white model. Similarly, a 2015 Huffington Post story titled "These Plus-Size Models Prove that Fitness Wear Is for Everyone" featured images of slim models, and models on the small size of the plus-size spectrum, who appeared fit and trim.
Henry Navarro Delgado, an associate professor of fashion at X University, says having body-diverse creative directors and photographers working in journalism would result in more inclusive imagery. "It's not about representation anymore. We need inclusion. Inclusion means people in front of and behind the camera who are from underrepresented communities." Fashion journalism cannot progress toward inclusion if there is no one pushing for it internally, guiding the content being produced. Journalists can, and should, resist the perpetuation of harmful practices, says Navarro Delgado. "They have a huge role to play. They can decide not to go with a norm. Editors are the ones making all these decisions." Gingras agrees, and says journalists should think about their collaboration in upholding rigid standards through their work, even if unwittingly. She suggests taking a more critical perspective: "Who is the reader? Who is being served? Who is being heard? Who is silent? Is the intention to body shame? Is it to liberate? Is it to call into question the capitalist medical industrial complex?"
Journalist Amanda Scriver, whose website identifies her as "fat, loud, and shouty," wants to see progress even higher up the chain. "The change is going to have to come from the top down, and not from journalists, to be honest. It's all about money. And it's all about capitalism. And it's all about ad dollars [and] the decisions that keep newsrooms profitable." Scriver says that in the past she's wanted to write about brands disingenuously marketed as size-inclusive without actually providing much range in sizing. Editors tend to reject those stories, she says, because they're afraid of upsetting advertisers and don't understand the importance of them. They also think these stories will not resonate with audiences, says Scriver. "Body positivity started out as a political movement, and has now been washed of all the politics attached to it," she continues. "When you're pitching editors, they want it to be light and fluffy. But the fact of the matter is a lot of these stories are about people being discriminated against."
May Friedman, a professor at the School of Social Work at X University, who studies fat and weight stigma, says people working in the media sector should try to understand the impact of the work they produce. "Media is reflecting back what we all think, and on the other hand, creating what we all think," she says. "Media both perpetuates and reflects that mainstream knowledge. So I'm not surprised that the mainstream rhetoric around fat people is what it is. But I think we have to ask, who made that knowledge?" During the pandemic, Scriver wrote about the fatphobic nature of quarantine weight-gain jokes. "Even in the middle of an international health crisis, as the economy teeters on the edge of a recession and one in eight households across the country can't afford groceries, diet culture has found a way to remind us that being fat or gaining weight is bad and losing weight is good—and, quite frankly, I'm tired of it," wrote Scriver for Refinery29. She's also written about fat people living with eating disorders, the anxiety some may feel about returning to the office after gaining weight during the pandemic, the inaccessibility of plus-size Halloween costumes, and a critical piece about Weight Watchers targeting teen consumers.
Scriver says that she occasionally receives messages from her straight-size journalist peers, asking for assistance with plus-size fashion reporting. Because they don't have lived familiarity with the subject matter, she says, they sometimes struggle to get the angle right or to find sources. Scriver helps them, but wishes more journalists of size were assigned these stories. "There are things that you experience as a fat individual that you are not going to experience as a straight-size individual," she says. If inclusion means inviting a diversity of experiences and perspectives to the industry, and not only those befitting a narrative that allows us to feel pleased with our own progressiveness, efforts need to be made toward hiring people of size—as writers and editors, as creative directors and photographers, as models, and as advertisers and executives. "The difference between straight-size individuals and fat folks covering these issues is that we can write from what we have witnessed and what we have seen," says Scriver. If we want journalism to tell the truth, let's stop misappropriating its mirror.