Why journalists must cover Indigenous stories better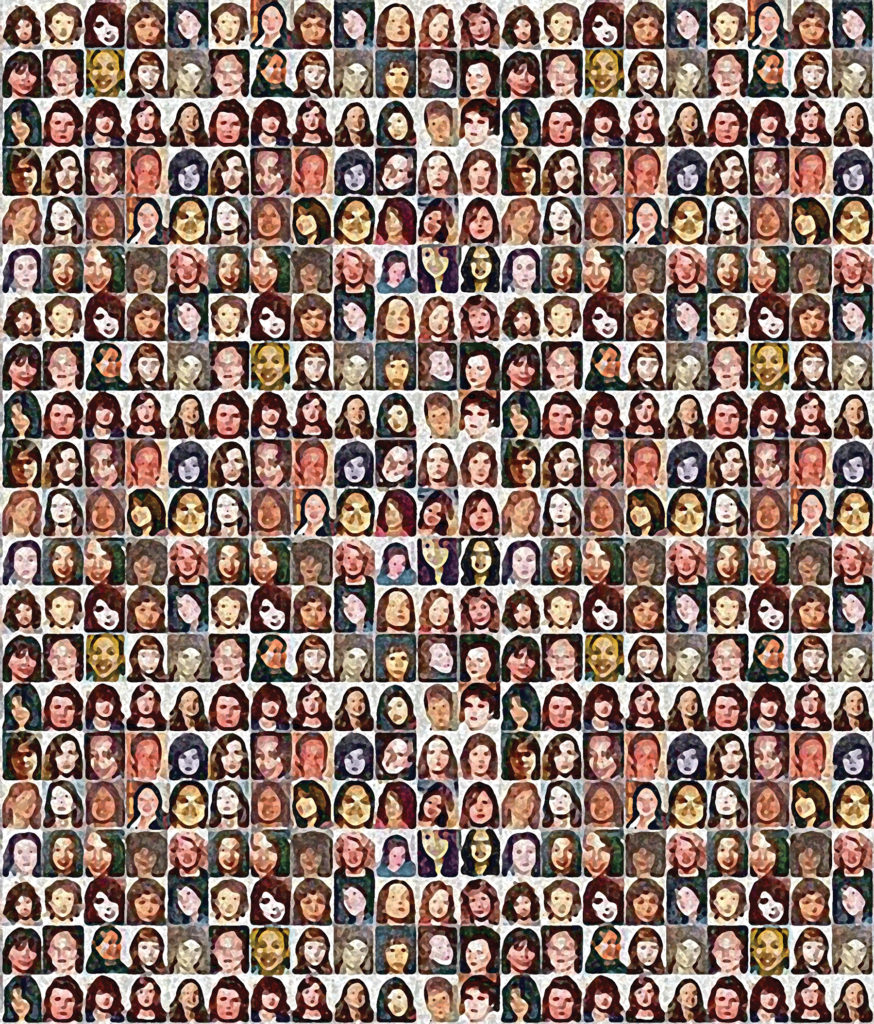 In 2017, Lorelei Williams, from Skatin Nations/Sts'Ailes and founder of Butterflies in Spirit, a dance group to raise awareness of violence against Indigenous women and girls across Canada, spoke to a room full of journalists about how to better report on Indigenous communities. Her aunt, Belinda Williams, went missing in 1977 and her cousin, Tanya Holyk, from the Skatin First Nation, was a victim of serial killer Robert Pickton after she disappeared in 1996. Pickton's name is generally better known than those of his victims, Williams told the journalists at the Canadian Association of Journalists (CAJ) conference session. That, she says, needs to change. When reporting on missing and murdered Indigenous women and girls, journalists need to avoid naming suspects and perpetrators more often than they do victims, whose lives must be remembered. The session was one of two that Karyn Pugliese, an Algonquin journalist and past president of the CAJ, organized to allow sources to give journalists feedback on reporting on Indigenous communities. "I flew in families who had lost either their sister or mother," says Pugliese, who recently was the managing editor, investigative, at CBC and is now the executive editor at Canada's National Observer, "and we had a panel where they told journalists what it was like being covered and how they felt about it."
Many of the conference session speakers, Pugliese recalls, felt reporting on missing and murdered Indigenous women and girls often fails to humanize the victims, and encouraged journalists to visit victims' families and learn more about them. Several suggested that journalists should avoid using mug shots and, instead, ask family members for more personal photos. Others noted that media coverage often identified victims who worked in the sex trade but rarely mentioned those who had careers as doctors or lawyers. "There's that bias toward naming your profession if it's something that's not necessarily universally accepted by society," says Pugliese. "But if you had a very prominent role in society, it wouldn't be named."
The conference sessions highlighted some long-standing issues in media coverage of MMIWG: Not only have their stories been underreported for years, but often, the stories that do get told lack depth—and as a result, receive little attention. Pugliese is one of several Indigenous journalists who, through their own reporting and through educating their peers, are striving to improve that coverage. They advocate that journalists understand this is more than just getting a daily headline, and with these stories comes a lot of trauma.
Before the death of Tina Fontaine in 2014, says Pugliese, reporting on Indigenous women in Canada had been minimal. Fontaine, from Sagkeeng First Nation, was just 15 years old when she went missing. She was last seen on August 8 of that year in downtown Winnipeg. Nine days later, her body was recovered from the Red River. In a profile about Fontaine published by CBC, her great-aunt, Thelma Favel, who lives in Sagkeeng First Nation, praised Fontaine's academic abilities, saying she did well in school and was a perfect girl with a big heart. The Indigenous Peoples' outrage at the details of her death, as well as their coming together on social media and within communities to advocate for change, prompted increased media coverage. The Drag the Red group, which searches for missing Indigenous women in the Red River, helped draw attention to the broader issue of MMIWG.
Reporting continued to rise in 2015 when Prime Minister Justin Trudeau promised an inquiry into the nearly 1,200 cases of missing and murdered Indigenous women and girls that have occurred in recent decades. Pugliese says coverage improved further over the next four years, until the inquiry's final report was released. "Then it just dumps off and it's gone back to sort of pre-Tina Fontaine levels," adding that most coverage since has also been less thorough. "You're not getting the full stories," she says. "You're not getting the systemic links as to why women are going missing." That said, over the last decade, Indigenous journalists have produced some of the strongest reporting on MMIWG. Pugliese says Cree journalist Connie Walker's Missing and Murdered podcast series is one highlight. It spanned two seasons to tell two Indigenous women's stories, connecting individual cases to the systemic issues involved. "Not only did [the podcasts] humanize the women that were missing, they contextualized their lives and showed the systems that impacted them, and ultimately led to their deaths," says Pugliese.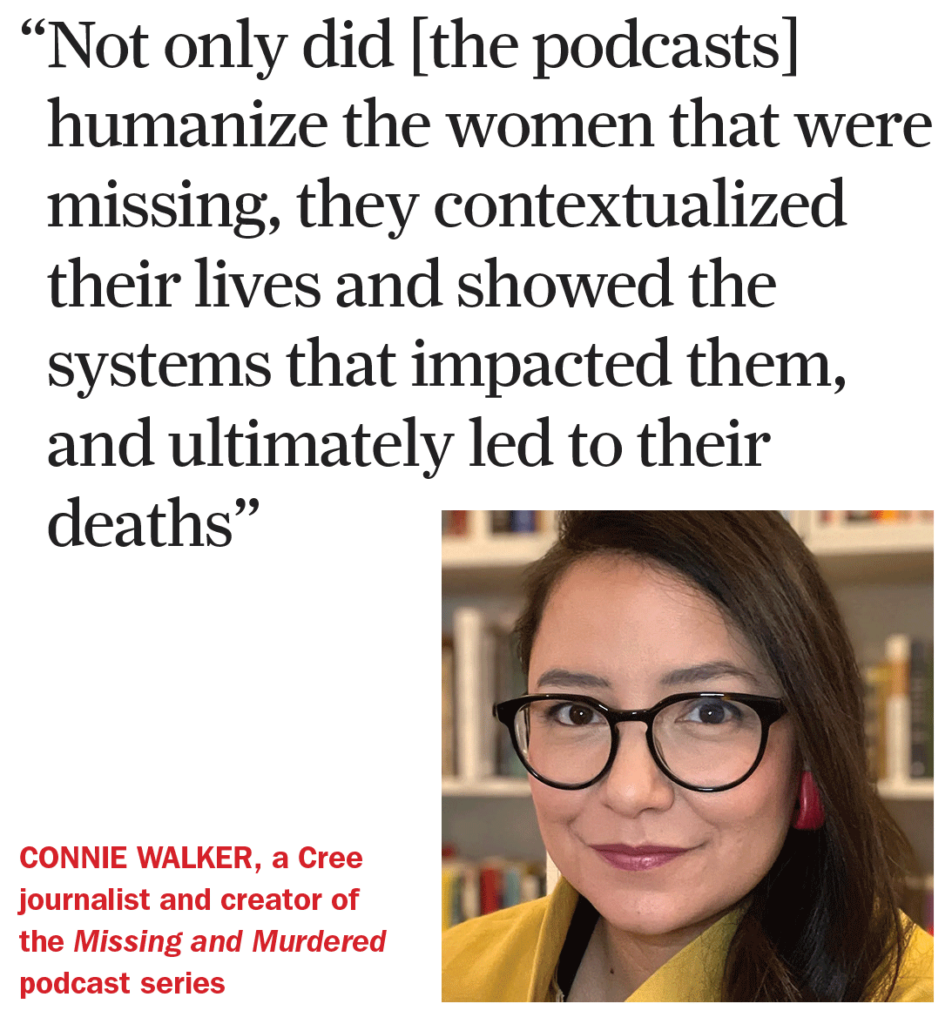 "Finding Cleo," the second season of the series released in 2018, tells the story of Cleo Semaganis Nicotine, a young Cree girl from Little Pine First Nation, who was believed to have been murdered in the 1970s. Throughout this podcast, Walker builds trust with Cleo's sister, Christine, and brother, Johnny, who help her discover what really happened to their sister. To Falen Johnson, a Mohawk and Tuscarora writer and podcaster at CBC, a key element of the narrative is Walker's role in it. She appreciates how Walker positions herself in the story, becoming a character instead of watching from the sidelines. The podcast captures every step of Walker's investigation, which includes moments when Walker stays by Christine's side when she becomes emotional recalling what happened to her family. "My writing mentor always says, 'No one wants to see you know the answer, they want to see you find the answer,'" says Johnson, "and I think Connie does a great job showing us how she finds the answer." Johnson says that, much like Walker does in her reporting, journalists need to build relationships with their sources rather than simply asking questions and moving on. Before she starts any of her interviews, Johnson takes five minutes to strike up a conversation with interviewees to make them feel comfortable. "Especially for Indigenous people, there can be a hesitancy [when speaking to media], and so trying to find a way to put people at ease is incredibly important," she adds. "If you're an interviewer, you're hosting, and so your job as a host is to welcome people into your house. So, you want to care about them, you want to be a good host, and that will ultimately make them have a better experience."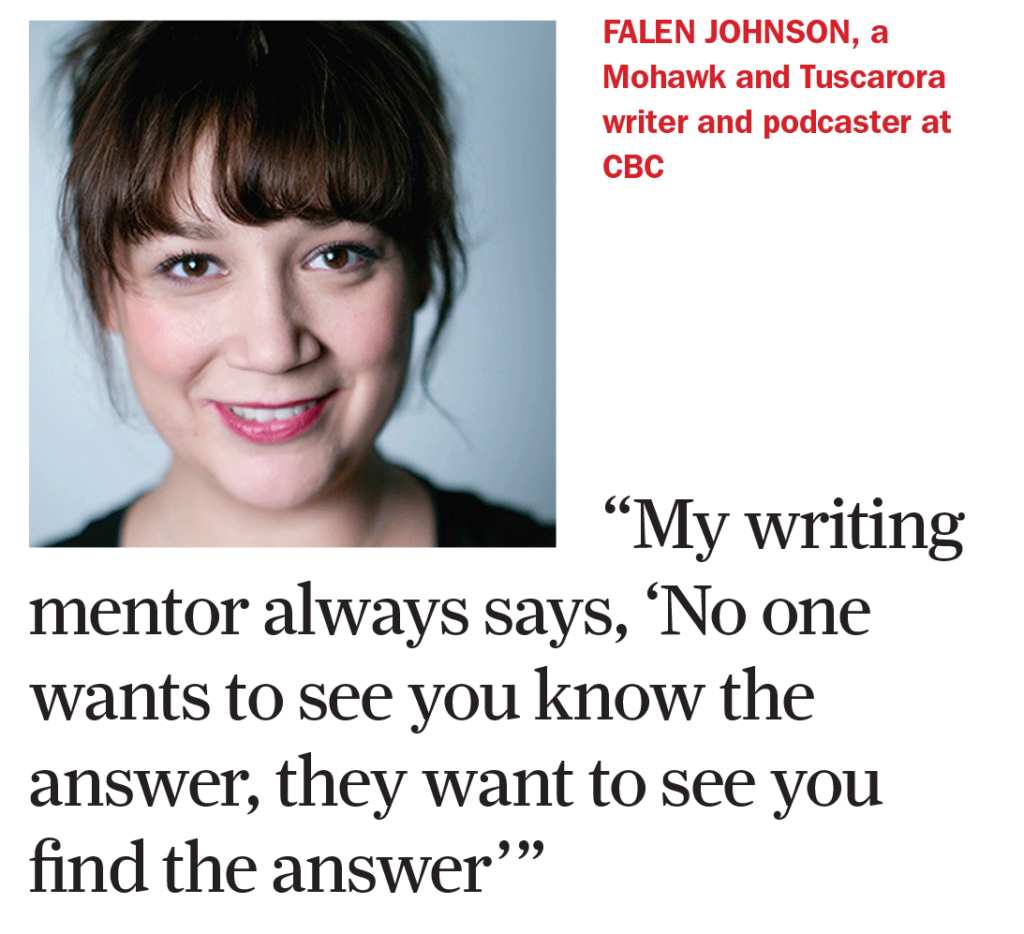 Alongside forming relationships with individual sources, some Indigenous journalists say reporters need to more broadly demonstrate that the media can cover issues like MMIWG responsibly. "These are stories, especially in the Indigenous community, that you can't just go in and get your headline of the day," says Brandi Morin, a Cree/Iroquois/French human rights journalist. "You have to really invest your time and make those relationships within [Indigenous communities], because these relationships with the media are broken. It's something that we have to work to repair," she says. "From there, that trust is built, and the stories are there waiting to be told." Morin also suggests that journalists, especially those who are just getting into the field, learn more about Indigenous and Canadian history before starting to report on Indigenous communities. "I recommend that they understand the history in this country of colonization," she says. "There are so many resources out there, like Journalists for Human Rights." Morin works with the nonprofit organization to provide training and workshops on how to report on Indigenous communities.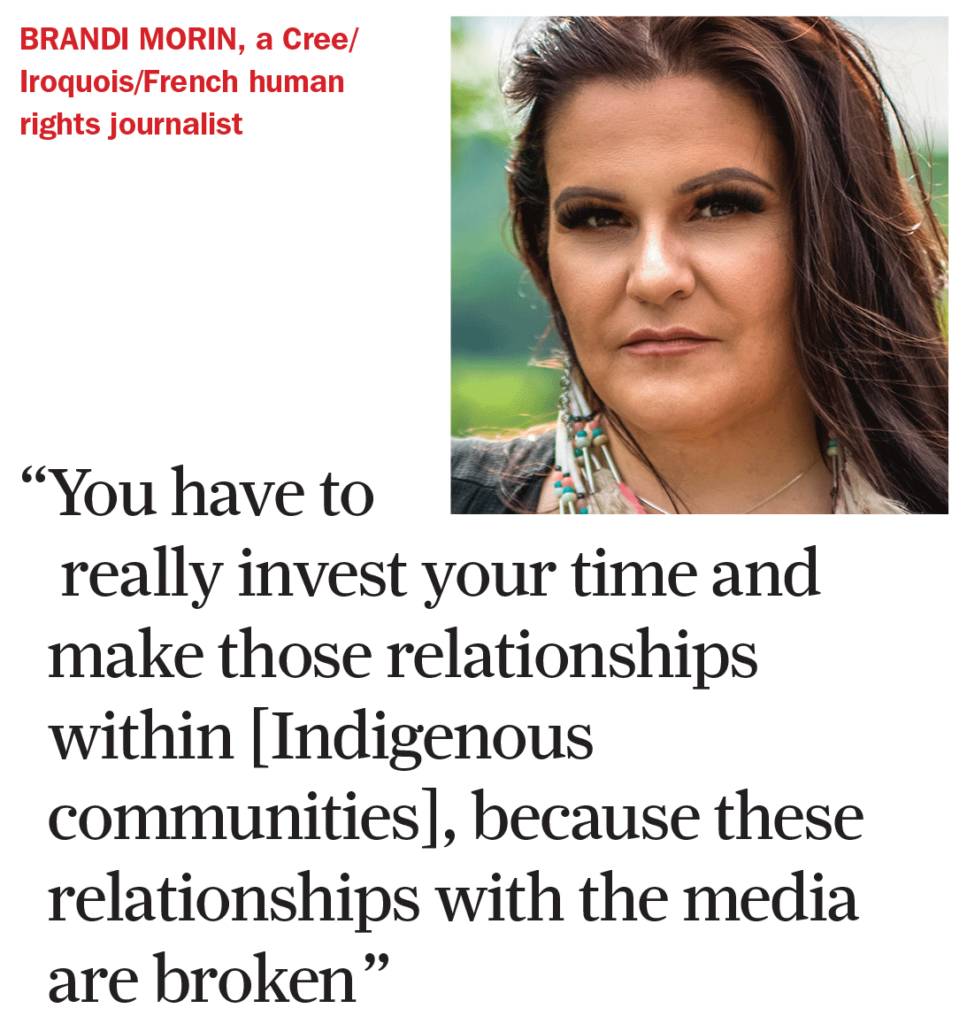 Another resource she points to is Duncan McCue's website, Reporting in Indigenous Communities. McCue, an Anishinaabe reporter who is currently the Rogers Journalist in Residence at X University, established the website just over 10 years ago—and it is still used as a resource by many journalists. "I'm thrilled at how it continues to have a life," he says. He hopes to update it and plans to release its contents in a textbook this year. One subject that McCue is planning to incorporate in the book is trauma-informed reporting. While there are resources, such as the Journalist Trauma Support Network—a program by Columbia University Journalism School-based Dart Center for Journalism and Trauma—that aim to educate journalists on the effects of reporting on trauma, McCue notes there are a few guidelines for reporting on trauma in Indigenous communities specifically. "It's almost impossible to do coverage of reporting in Indigenous communities without touching on trauma of some kind," says McCue. "When you do these stories, there's a very good likelihood that you're going to be talking about historical trauma or the immediate trauma of losing a loved one." McCue hopes the addition to his textbook will provide an effective resource for journalists and journalism students. "We as journalists need to understand that we have a responsibility when we ask people questions about these difficult parts of their lives, to do our best to tell that story in a respectful way, and to take care with our interviewees so that we don't do them further harm."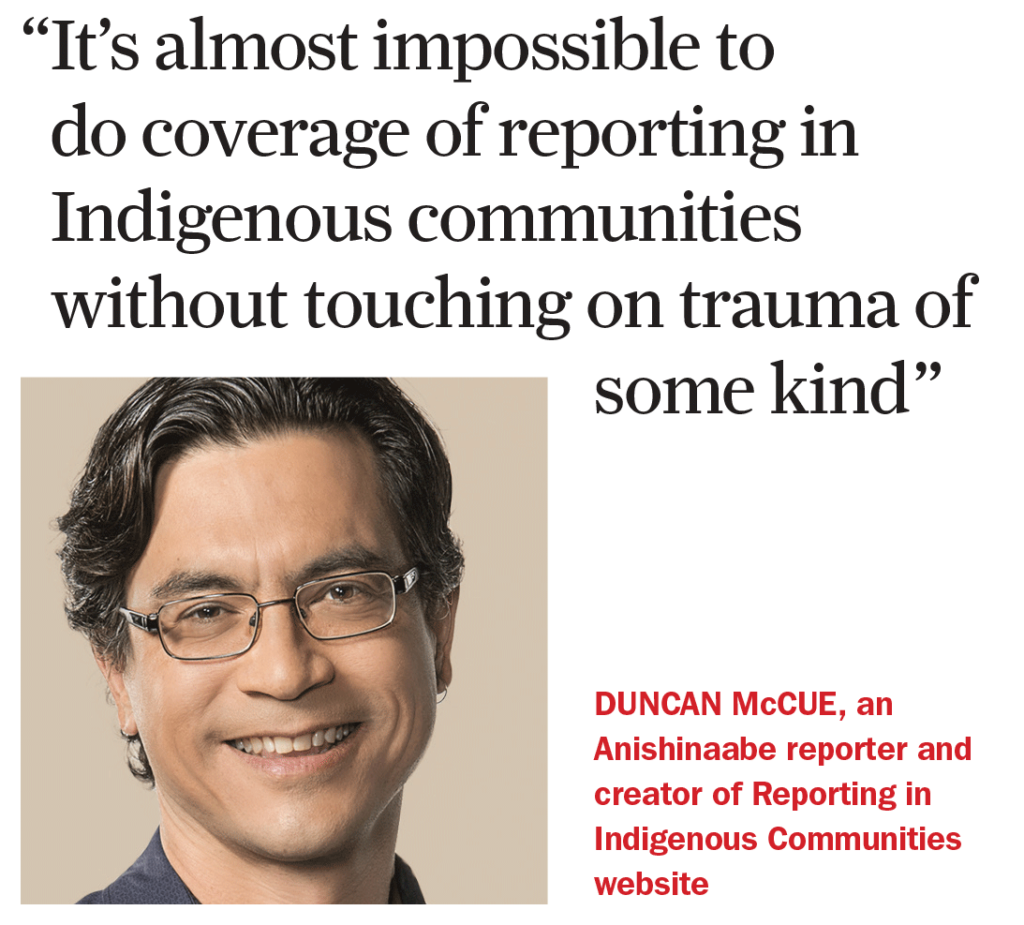 To Falen Johnson, it is also important to consider the well-being of the audience—especially those members who are Indigenous. "We're living in a time when all of a sudden, there's a lot of awareness around a lot of Indigenous issues that didn't necessarily exist when I was young," she says. While that progress is important, she says the coverage can be difficult to take in at times. "I hesitate to say 'triggering' because it's an overused term these days. But it is slightly overwhelming." Many stories about missing and murdered Indigenous women and girls deal with traumatic content and rarely include a trigger warning, she says. "I know that I have to be prepared to read something horrible, because every day there is something happening that is not easy to hear." Karyn Pugliese says it is also important to take seriously the effects that reporting on trauma can have on journalists' mental health. "I began to normalize violence," she recalls of her own experience reporting on traumatic events, "and later, when I was assigning [stories to] other reporters, I did not properly assess the impact the coverage would have on them. It is only recently that, by going back and talking to people who worked for me, whom I thought I was caring for, did I realize the extent to which I had built this protective shell to deal with vicious trauma. I realized that in managing others, I need to do better."
When the final report of the National Inquiry into Missing and Murdered Indigenous Women and Girls was released in 2019, it drew links between how Indigenous women were often covered in the news, how they weren't valued in society, and how they became targets of violence. To Pugliese, ongoing news coverage of the issue must recognize those connections—and delve deeper into the systems that allow the murders and disappearances to continue. "I think that the mature version of this coverage would be examining those systems and questioning why they exist and what needs to change," she says. Yet, even as it examines the bigger picture, media coverage must never lose sight of the individual lives lost. Pugliese recounts one story she covered when she worked for APTN that she says she will never forget. Terri Brown, from Tahltan First Nation and former president of the Native Women's Association of Canada, told Pugliese in 2003 that her sister, Ada Elaine Brown, also from Tahltan First Nation, had been murdered and her case was unsolved. Pugliese asked Brown if she could report on her sister's case. Brown agreed and invited Pugliese to her office.
Before setting up her camera, Pugliese looked at many photos of Ada spread across a table. Then, Brown began sharing her story. Her sister complained of a headache back in 2001 but was turned away when she sought medical attention. Ada told Terri that the doctor suggested she was drunk and instructed her to take Tylenol before sending her home. That same night, Ada passed away. When Brown went to see the body of her sister, she found her bruised to the point where she was unrecognizable. The case remains unsolved, as there was no investigation into what exactly happened. "I've been covering residential schools at this point, I've been talking to survivors, I had been to vigils, and I was shocked," says Pugliese. "I remember that story because I didn't think anything could shock me anymore."
List of Resources for Journalists
Reporting in Indigenous Communities
Duncan McCue's website provides many resources on how to properly report within Indigenous communities. It includes a "Reporter's Checklist"—a list of questions journalists should answer before they go out and report.
Check out McCue's textbook, Decolonizing Journalism: A Guide to Reporting in Indigenous Communities, when it comes out later this year.
Journalists for Human Rights
It works around the world offering training for journalists on how to strengthen and improve their human rights coverage.
Dart Center for Journalism and Trauma
The website provides information on how to ethically and effectively report on a variety of topics that involve trauma.
Journalist Trauma Support Network
A program of the Dart Center for Journalism and Trauma, this website offers an international community of trained and qualified therapists. They provide support for journalists who have been exposed to stress and trauma from their reporting.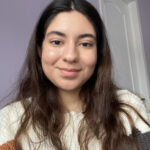 Yasmeen Aslam is Chief Copy Editor at the Review of Journalism.