How music journalists are shifting from critics to curators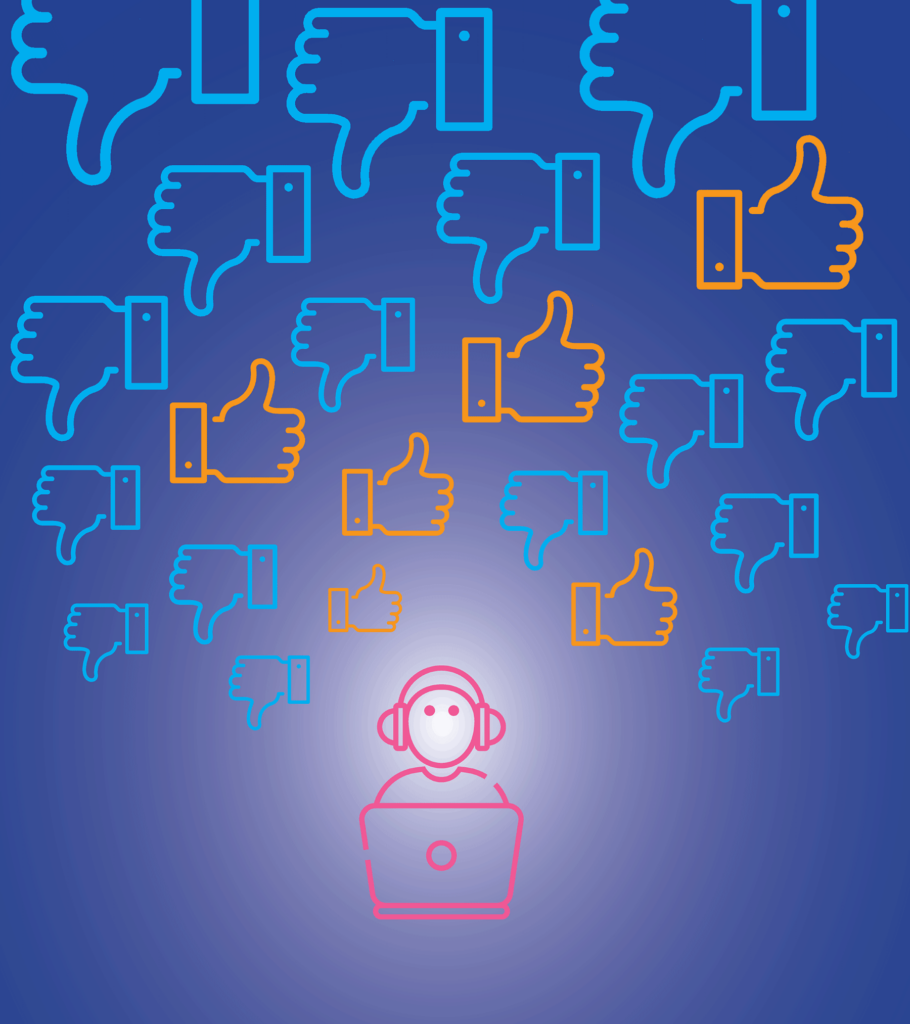 In 2018, Toronto-based journalist Wanna Thompson tweeted about Nicki Minaj, asking the Trinidad-born rapper and singer to write more serious music. "You know how dope it would be if Nicki put out mature content?" Thompson wrote to her then 14,000 or so followers. "No silly shit," she said. "Just reflecting on past relationships, being a boss, hardships, etc. She's touching 40 soon, a new direction is needed." Over the following days, she was bombarded with death threats online. Social media, particularly stan—or superfan—culture, has given passionate music fans the ability to defend their idols, making it difficult for writers to criticize artists and their music. It can result in some pretty aggressive behaviour. For BIPOC, 2SLGBTQIA+, and female writers, the problem is particularly pronounced.
Social media has become both a blessing and a curse for many in the field. Critics can no longer write with impunity, transforming the way they report on music. With other underlying issues in the industry bubbling for years, like the loss of ad revenue, reduced mastheads, and the rise of music streaming services—along with a global pandemic that has turned the entire world on its head—there continues to be a trend away from critical writing in music. Instead, publications and journalists are emphasizing covering local artists, and the role of the music writer has shifted from critic to curator. Writers want to share stories that push important or forgotten pieces of music forward and recultivate the relationship between themselves and artists, so audiences can ultimately gain full understanding of their favourite music.
Over the last 10 years, magazine and periodical revenues have declined by more than half, from an estimated $2.3 billion in 2012—reducing coverage, limiting space in print magazines, and paring down mastheads. Consequently, a lot of music coverage is contributed by freelancers today. Carly Lewis, a journalism instructor at X University and a freelance arts and culture journalist, believes music journalists have become mouthpieces for promoters and labels, especially considering that they often include a fandom they are a part of when pitching to an editor. "Music journalism has just become this big toast to the artists that everybody likes," says Lewis. "I think that has an impact on not only individual work, but the genre of music journalism collectively at this moment."
If writers get too friendly with music publicists and promoters, they can fall into a trap of regurgitating press releases, and the current structure of the industry lends itself to promotional content. They can benefit in a career sense by writing positively about a project. "A lot of publicity teams and management teams in music have the idea that music journalists are on their side, as if they're on the payroll," says Lewis. "They really treat me, the journalist, as an extension of their promotional efforts." While there has always been an A&R aspect to music journalism, with publications keen to discover the next big act, Brian Fauteux, an assistant professor of popular music and media studies at the University of Alberta, believes journalists should be independent from PR pressure and narratives. However, no journalist wants to become a pariah online for a negative review, and some argue there's a difference between positive reviews and promotional puff pieces.
Since concerts and tours—the main source of content for many music outlets—previously halted due to COVID-19, Exclaim! magazine, Canada's largest music and culture publication, has been trying to champion the country's artists who continue to put out new music. A column called "New Faves," spotlighting eight emerging artists each month, began before the pandemic—but features editor Matt Bobkin says that it really took off since Canada's music industry shut down. "We've just found there's so much more power these days in putting forth someone who has 300 monthly Spotify followers," he says, "rather than offering the same take of whether or not the new Justin Bieber album is any good." With other sections in the magazine, like "The Eh! List," a selection of songs from the magazine's weekly all-Canadian Spotify playlist, Bobkin hopes Exclaim! can create a sense of community for Canadian music fans and artists who grew up reading—and continue to support—the magazine, even if its resources have dwindled.
At other legacy publications, the drive for local music exists as well. Jess Huddleston, CBC's music editor and host of Songs You Need to Hear and The Intro, says that even if journalists only publish positive articles, there are still journalistic conventions in place. Huddleston is aware of CBC's position as a public broadcaster, and she and her team do their best to make their digital content as balanced as possible. They choose the songs and artists to play, often sifting through what's popular on TikTok and Twitter. Historically, CBC has focused on Canadian musicians, and like the "support local" campaign that grew throughout the pandemic, that emphasis has only increased.
Streaming services have given listeners access to almost all music ever recorded, and the volume of weekly releases online surpasses a magazine's capacity to cover every new album or single. "It's paying for a library membership instead of paying for the books," says Bobkin of streaming services. Guiding audiences through the busy ecosystems of Spotify and Apple Music has allowed Exclaim! to expose its audience to new artists. Recently, the magazine reduced the number of ads in its print issue. The most recent December/January issue had only 16 music reviews, as the section shrinks and expands depending on ad sales. With no rating system for print, its reviews have become a carefully picked list of new albums of the month. "Ten, 15 years ago, a negative review would come up quite frequently and it would gain a lot of traction and it could kill an artist's career," says Bobkin. "Nowadays, there's less power in that, and I think there's less incentive for music writers to write negative reviews."
Stuart Berman is a freelancer who writes for Pitchfork, one of the few outlets that still publishes long-form pieces on music. When he began writing for Eye Weekly—a former alternative arts and culture newspaper in Toronto—in 1998, harsh critiques were commonplace. "I was way more flippant in my reviews and took a certain glee at tearing something down that I thought deserved to be teared down," he says. "You can get a little drunk with delusional power when you're young."
Berman has now mellowed. "I don't want to piss on someone who's still struggling and trying to claw their way up the ladder," he says. Although Pitchfork publishes just over 20 reviews a week, the new landscape for music journalism has forced the magazine to be selective with the artists it chooses to review. Berman gets around 300 emails a day from publicists and some artists trying to get their albums highlighted on the site. It would be impossible to write about all of them. If a band's new project doesn't get reviewed, it can be worse than getting a poor rating, he says. "Not writing about them is sort of like the harshest critique in a way."
Carly Lewis says the worst critics of her work are men working in the industry, usually other journalists or publicists upset with her critiques. Back in 2018, Lewis wrote a feature on the Calgary band Preoccupations for The Globe and Mail. The band went through a name-change in 2016, after an outcry over its original name, Viet Cong. Lewis interviewed two band members for the release of their album New Material. She asked the band tough questions about the name change—were they actually sorry for calling themselves Viet Cong? Throughout the interview, they answered candidly, and Lewis says she appreciated their introspection.
When the feature ran, she wasn't surprised to receive an angry email from a member of the band's team. Lewis believes he would have never sent that type of a response if she were a man. "There's a gendered motivation to online harassment," says Lewis. "Women music journalists, nonbinary, and trans journalists get treated much worse than men who write about music. That is just the way it is." Ever since Lewis began writing about music journalism in 2010, harassment has existed. Yet, she believes Twitter can also be a place of solidarity to create meaningful friendships with others who have shared lived experiences. After the internet exploded over Thompson's Nicki Minaj tweet, the hashtag #IStandWithWanna started trending, with many calling out Minaj and the rapper's fans that personally attacked her.
So, gone are the days of the nasty review. Yasmine Shemesh, a Vancouver-based freelancer, says that social media and Twitter have provided a new avenue for artists to define their own public narratives. Today, bands often post their own promotional content online, making it difficult for smaller publications to get any exclusive interviews with artists. "Take an artist like Lil Nas X," says Bobkin. "You can tell that he's really interesting and funny and articulate because of what he posts on social media. All of a sudden, music publications lose that access as currency to get readers to buy in."
Not only do artists share content with their own followers, but they are increasingly making the jump into media themselves. Artists like Questlove and Mark Ronson have created podcasts and television shows to interview other musicians, sparking conversations about their craft that are often more candid and technical than what a journalist can offer. "I think you get just a completely different world of valuable insight from that when musicians are allowed to dictate the terms and they don't have to play the game of press," says Bobkin. "Now that social media has given artists a platform to connect with people without playing that journalism game, you're seeing connections that are much more authentic."
Shadrach Kabango—a Canadian MC known as Shad—is among the artists who have crossed into journalism. Through his work on CBC Radio's Q and as the host of the Netflix documentary series Hip-Hop Evolution, his experience as a high-profile MC allowed him to get into the details of the music-making process with his subjects. However, he knows that he needs to keep the audience in mind; he doesn't want to spend an entire interview talking about samplers, as it can leave some audiences lost in music-speak. Journalists can synthesize complicated topics and make them accessible to someone who may not have any music literacy, something that might get lost if an artist has full control of the press. Shemesh says that when journalists aren't capable of participating, musicians can publish their own vanity pieces. "It's fairly common to see a lot of big artists not even give interviews," says Shemesh. "And when they do, it feels like it's curated to align with what they want to present."
When Shad began his career in 2005, there was a symbiosis between journalists and musicians that has diminished with social media. For him, the complex ecosystem of journalists, photographers, publicists, and music fans bred a healthier music culture. Whether it was writers going to jazz clubs or following punk shows, they all participated in nurturing the local music industry. "If artists are doing everything, then it takes away ways for music fans to participate," he says. Through social media and streaming services, the power dynamic in the industry has shifted in favour of larger artists.
For Fauteux, some music editors have put their focus on artists who are already established or have gained popularity online. "It's great when you have lots of action taking place at different levels geographically, in terms of the overall music journalism ecosystem," he says. "Having seen the reduction in local coverage over the last few years, it has certainly been at the detriment of music communities." Without concerts and tours, publications are trying to find ways to reconnect with audiences, and the pendulum of music journalism is swinging back to more tangible, meaningful content.
The pandemic hit a lot of journalists hard, and Michael Rancic was no different. Unable to write about local bands touring in Toronto, he lost his main source of income. After he started receiving CERB payments, Rancic was thinking of launching a new music blog that would create value for music journalists and writers. With the volatility in the industry, it's not uncommon to see publications close, and their content can be pulled at any time. For journalists, this can hurt their ability to work, especially when they rely on previous bylines to get their next job. So, Rancic decided to throw out feelers to his colleagues to find a model that would align with his principles. Many of the journalists he spoke with were upset about the state of the industry, from poor labour standards to a lack of diversity in traditional newsrooms. They wanted to develop something that wouldn't perpetuate the same mistakes. So, they created New Feeling, a multi-stakeholder cooperative that looks to serve not only Canadian music journalists and writers, but readers and the larger music community.
New Feeling's aim is to draw attention to underrepresented artists, with local journalists across the country writing about their own music communities. A column called "Yes, in My Backyard" lets writers take a deep dive into their local scenes. "Some of us have been lucky enough to see how music writing can help foster community," says Rancic. "It's just incredible to see what people come up with, because the majority of those artists aren't getting talked about in any sort of broad sense. But from city to city, they're the ones who are making a difference."
Subscribers to New Feeling can become co-owners of the publication, have representation in board meetings, and ultimately have a say in the direction that the co-op will take. With no bosses, stakeholders and subscribers make the decisions on which music communities need highlighting. It's a business model that Rancic believes leads to more transparency, something that was missing in his previous work. "Enthusiasm is the thing that sort of drives our work and we're constantly looking for new and old music that has been overlooked," says Rancic. Fauteux thinks that cooperative models give audiences a voice in the kind of coverage they want to read. "It's kind of like the listener-supported radio model, but with print journalism," he says. "It does enable the outlet to respond to the types of music and culture that might be of interest to the people making the contributions, or at least gives [some] freedom to that readership." Fauteux hopes to see similar reform in larger publications, allowing readers to sit with pieces outside of the economic cycle of traditional music journalism.
The next step for New Feeling is to incorporate, so it can open up grant and funding opportunities. The cooperative wants to continue forging lasting relationships with the Canadian music community, working together to help shine a light on local artists. Larger publications can be too invested in serving broader audiences and they might miss the mark on creating cultural moments in society. Independent publications like New Feeling can fill the void that larger publications cannot—homing in on niche aspects of music and culture without trying to please the masses.
On March 16, 2019, 30,000 people packed Kingston's National Stadium in Jamaica for the Long Walk to Freedom tour, eagerly waiting for the main act to begin. After seven years in a U.S. federal prison, Buju Banton, one of Jamaica's most celebrated artists, was ready to reemerge. After several opening acts, the stadium finally went dark. Lights from the hushed crowd peppered the stadium. Finally, Banton, clad in all white, walked onto the stage. "To date, it has been the most immersive live music experience I've ever had in my life," says Sharine Taylor.
When Taylor began as a freelancer, she had a hard time convincing her editors that Caribbean culture was worth writing about. There are vibrant Caribbean populations across Canada, and she knew that this was a community underserved by the media. In 2020, Taylor profiled Banton for OkayPlayer, and shared her experience at the Freedom Tour. In her piece, she mapped the artist's influence for Jamaicans around the world and now says, "That was such an important moment to write about and to bring people into the fold."
In 2017, she founded her own publication, Bashy Magazine, promoting conversations about the art and culture of Jamaica, and its diaspora. Future generations can look back and read how music has grown, so giving space for new voices to tell their own stories can encapsulate the ever-changing landscape of music. Lewis thinks this is an integral part of music journalism, and it's crucial to tell readers what's going on right now in music, as well as cover artists who mainstream publications are less likely to cover. "If we leave it to mainstream outlets, we will end up losing the [cultural] memory of a lot of very groundbreaking artists," she says.
Still, traditional publications are taking cues from independent magazines, and longer features are making a comeback—despite audiences craving the level of access TikTok and Twitter can provide. Digital versions of articles allow for more interactive storytelling, as you can link directly to songs and playlists online. "We're trying to get back to that sense of discovery that online has made more of a challenge compared to print," says Bobkin of Exclaim!'s feature writing. Recently, he wrote a feature about Carmen Elle from the band DIANA. Elle has been diagnosed with autism, and Bobkin, who is an autistic writer, was able to use his own experience to dive into the human element of Elle's artistry. This allowed the feature to be more than just about a new album. He writes that Elle can "speak with a renewed excitement for putting themself out there, living without the weight of the masks they once wore as they now express their struggles candidly and openly." He hopes the acknowledgement that he and Elle are part of the same community will emphasise their humanity, keeping readers engaged in the long-form music medium.
Journalists are still informing readers about which albums are worth spending time on, but their role has moved from critic to curator, adding to the conversation of music and culture, and discovering how and why artists work on a project. Music is so personal, so abstract, that writers can lean into their unique experiences and history to develop meaning, and share that with like-minded fans. Irrespective of independent publications, cooperative digital platforms, TikTok, Twitter, or traditional publications—archiving important cultural moments is the essence of music writing.
Niko Stratis, a Toronto-based freelancer, wrote a feature on the queerness of Green Day's music for Catapult magazine. She was able to draw on her experiences growing up in Whitehorse, Yukon, and how Green Day helped her navigate the cis-gendered world of the Yukon in the nineties to come to terms with her own gender identity. She writes in the piece that she was "enraptured" by Green Day's album Dookie. Whenever Stratis listened to "She," the first song on the B side, she writes, "I would visualize myself as the heroine of Billie Joe's story, and the confusion that plagued my waking life fell away." These discussions go beyond the typical album review, and they allow for introspection and self-reflection on why we gravitate to certain music.
Audiences want stories that are immersive, that can take the reader on a journey. "There is nothing like a long piece that reads like a book," says Shemesh. "At the same time, you're being thoughtfully critical, and it's compelling." She believes one of the core tenets of music journalism is to contemplate the wider implications of music, in terms of our culture and society. Without it, fans simply congratulate artists without any deeper meaning. "To omit the more critical aspects," she says, "it does a disservice, in a way, to the art of writing about music."