How news delivered in Indigenous languages is revitalizing restoration efforts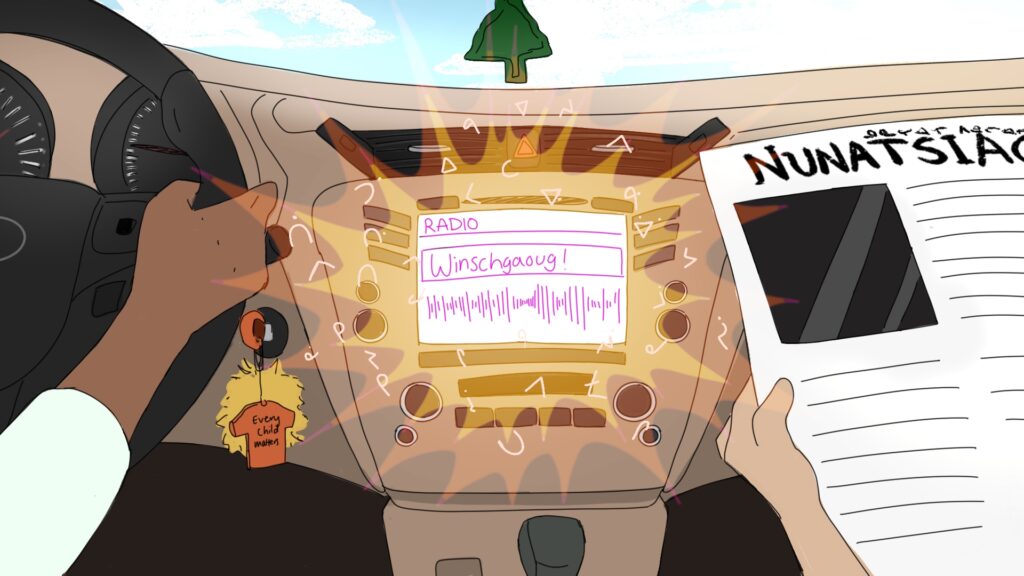 Winschgaoug! For the last two years, Dorothy Stewart has greeted her listeners every weekday morning at 8 a.m. by telling them to "wake up!" in Cree.
"I get little texts from [listeners]," says Stewart. "They tell us: 'We are so proud of you, you tell the stories, and everything is in Cree.' They're just happy to hear us on the airwaves. I think that's so important that our audience appreciates it. And I think that's why I really like what I'm doing."
Stewart is part of a network of journalists across Canada who are delivering news in Indigenous languages. From Cree to Dene to Inuktitut, these journalists are not only providing much-needed outlets for unilingual speakers, but they are also contributing to a nation-wide effort to revitalize Indigenous languages.
Stewart's program, Winschgaoug, which is available through CBC North radio, airs five days a week and runs entirely in Cree for an hour. Winschgaoug covers Cree news, local news in the James Bay region, as well as national and international stories.
For Stewart, delivering news in Cree has been a lifelong learning process. Having grown up in a Cree speaking household, Stewart nearly lost her language after she was sent to residential school at the age of six.
In the late 19th century, the Canadian government began confining Indigenous children to residential schools in order to strip them of their Indigenous identity. Cultural cornerstones, like language and dress, were forbidden. It was a rule that was often upheld with inhumane punishment. As a result, the number of Indigenous language speakers dropped severely, to the point where many Indigenous languages were at risk of becoming extinct or being lost altogether.
But in recent years, there's been a resurgence of Indigenous languages, especially following the calls to action from the Truth and Reconciliation Commission. In 2017, Statistics Canada published a report based on 2016 Census data that there were 70 Indigenous languages being spoken across Canada by over 260,000 people. This is an increase of 3.1 percent since 2006. There were also twice as many Indigenous children as Elders who could speak an Indigenous language in 2016 compared to 2006.
"Communities, regardless of their languages, with respect to endangerment, are generally working really hard to do language revitalization and to find ways to ensure that their languages are passed on," says Lindsay Morcom, a professor of education at Queen's University and the Canada Research Chair in Language Revitalization and Decolonizing Education.
Stewart says as she got older she was determined to relearn her language, and did so by speaking in Cree to her parents as an adult. "I made time to talk to them on the phone every two weeks. We would do our Sunday evenings, they could hear my two children and they could talk to them and get to know them. But it was an effort. And I'm so glad that I did that."
WATCH | Dorothy Stewart discusses her Cree-language coverage of the Tokyo Olympics:
When her children were grown, Stewart returned to her community, the Cree Nation of Wemindji on the east coast of James Bay, Quebec. Here, Stewart attended meetings with elders that were held in Cree. "I enjoyed that. It was like storytelling for me, but what they were doing was talking about the concerns of what development could be happening in the territory…I always enjoyed listening to wherever Elders were. I was always going [to meetings] and that's what's really helped," she says.
Now with her own platform reaching young people, Stewart hopes that her program contributes to language preservation in the same way. "We always encourage the younger generation to listen to your Elders and listen where you can because you have to have the ear for [the language]," she says.
While her research focuses on language revitalization, Morcom herself is also an active learner of Anishinaabemowin and a member of the Ardoch Algonquin First Nation, as well as the Kingston urban Indigenous community, where she currently lives.
"Having access to, particularly, oral broadcast, is really valuable because it allows me to develop a better ability to understand the language without having the benefit of access to fluent speakers on a regular basis—and [written form] as well. I think that that's extremely important," says Morcom. "Because it creates more materials in the language that are going to be relevant to adult learners. So journalism that is based in Indigenous languages and perspectives, that is accessible and interesting to adults, is really valuable."
Journalism that is based in Indigenous languages and perspectives, that is accessible and interesting to adults, is really valuable.

Lindsay Morcom
Providing an outlet for young news consumers is what motivates Corey Larocque at Nunatsiaq News, a newspaper that serves Canada's northwest and features stories that have been translated into Inuktitut.
"I see it as an important service to Inuk Elders, but also to younger people who are learning the language," says Larocque. "We're seeing a lot of young people who grew up speaking English only that are now starting to get in touch with the language of their parents and their grandparents, and their culture. So here's an opportunity for Inuktitut learners to read the news in their language."
Nunatsiaq News has been in print since 1975, serving the Northwest Territories, Nunavut, and Nunavik, the Inuit communities in northern Quebec. The paper, which is now primarily online, has a handful of stories in Inuktitut in each issue. Topics of the translated stories range from their audiences' communities to Indigenous issues across the country, such as the recent discoveries of mass graves on residential school grounds.
"And especially language issues," Larocque adds. "Any story where the Nunavut Languages Commissioner talks about a new policy change or something to encourage the use of Inuktitut, we try to translate that."
While Nunastiaq does not currently have any fluent Inuktitut speakers on staff, they do hope to hire one in the future, possibly through the Indigenous journalist bursary they offer. In the meantime, the paper serves Inuktitut speakers in over 39 communities.
"I think it's not unique but it's certainly rare to have a bilingual English/Inuktitut news source," Larocque says. "Inuk readers have not as many options for getting their news as English speakers or French speakers. So anything that can be done to give them news coverage, I think is beneficial to those readers."
Missinipi Broadcasting Corporation announcer Willie Billette also fills a news desert with his reporting in Dene. When he first joined MBC, Dene-language news was only broadcast into Dene communities in Northern Saskatchewan. But after prompting from Billette, his show, which airs three times a day, can be heard across the country.
"I have a vast audience," Billette says of his Dene listeners. "They tell me they enjoy my program a lot. I have some faithful listeners that listen to me every day."
Billette grew up speaking Dene as his first language and English as his second. But like Stewart, residential school threatened his fluency. When he started his broadcasting career 20 years ago, he also began rebuilding his language.
"When I first went on the air as a rookie, nothing came out of my mouth. I was sweating. Really nervous," Billette describes. "And so I decided after work after, after the day that I would stay behind without pay and train myself to read newscasts in the Dene language. It's hard to read from English to Dene. And you have to kind of train yourself for it. So that's what I did. And finally, I got the whole of it. Now, it's just like a piece of cake. I can go on here without being nervous."
Today, Billette delivers his show, the "Dene Honi Show," weekdays, covering everything from local weather to international conflicts.
"These are languages that are modern and developing, as is every language," says Morcom. "There's no reason that you wouldn't be able to talk about international issues, or really any other topic, in Indigenous languages."
Having [Indigenous language] in a journalistic space really emphasizes the sophistication of the languages.

Lindsay Morcom
When preparing for his broadcast, Billette asks himself: "What can I do today to make northern Saskatchewan a better place to stay?" Through his Dene broadcasting, it is safe to say that Billette is increasing accessibility to a language that has been spoken in the area for millennia.
"I'm sure that the Dene language program that I deliver every day helps a lot [with language restoration]," he says.
This sentiment is echoed by Larocque in Iqaluit. "We're happy to do it. We're proud to do it," Larocque says of featuring news in Inuktitut.
"Having [Indigenous language] in a journalistic space really emphasizes the sophistication of the languages and the fact that they really do warrant support so that we can keep having these perspectives presented," says Morcom. She encourages mainstream news outlets to offer news in Indigenous languages, as well as advocating for consistent funding to journalism initiatives "so that communities are able to self-determine how they want their languages used in journalism."
"The language – we have to keep it alive," says Stewart. "And if we don't use it, then we're going to be one of those that will lose it. We're a small unit here. The work that we do, I think we're doing as best as we can—we're keeping the language alive."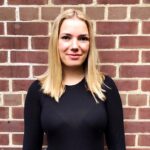 Dayna Smockum is Managing Editor Print at the Review of Journalism.