Covering drug cartels, attempted coups, and high-level corruption was once all in a day's work for exiled journalists seeking refuge in Canada. Now what?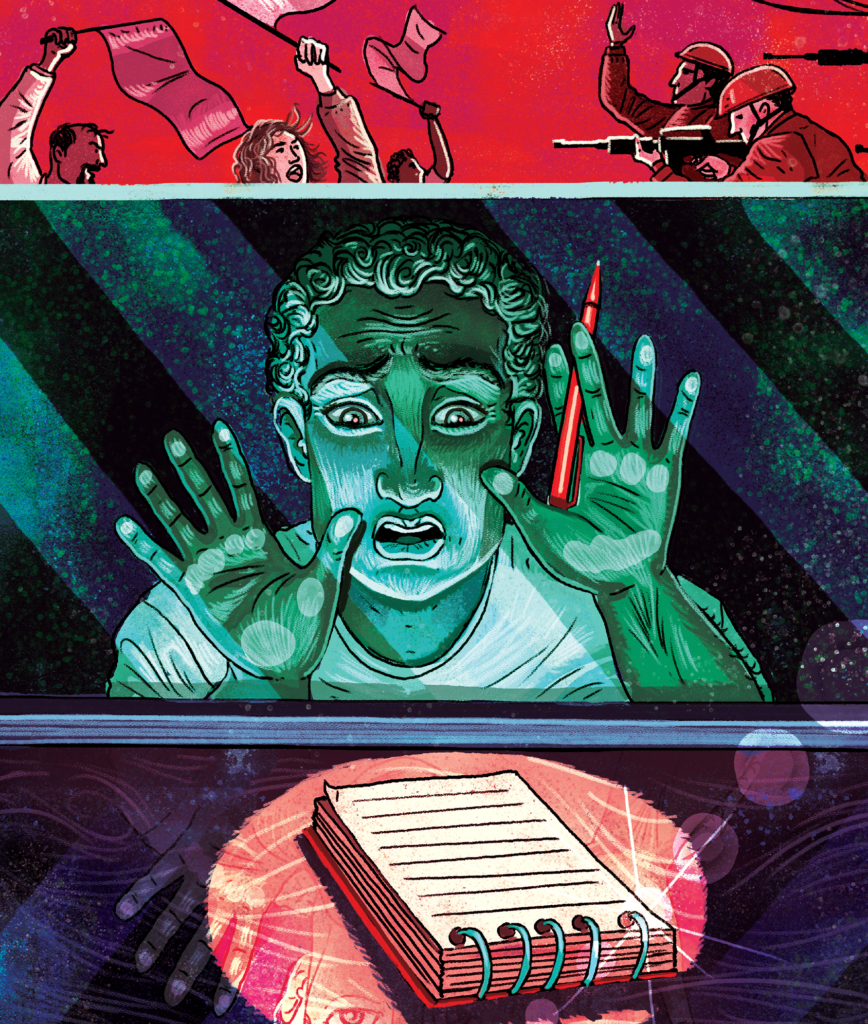 [su_dropcap style="simple" size="10″]T[/su_dropcap]he Ulúa River twists and turns like a tangled wire beside the capital city of San Pedro Sula in the Sula Valley, tucked into the central highlands of Honduras. The bustling urban centre, a hub of transportation, is surrounded by scenic landscapes: lush forests to the east, the woody mountain range of Sierra del Merendón to the southwest, and the Caribbean Sea to the north.
On July 9, 2013, TV crews and journalists descended on the riverbank of the Siboney lagoon on the southern outskirts of San Pedro Sula. Human remains, those of someone who had been badly tortured, were discovered. Fred Alvarado heard the news like other Hondurans. When he turned on the TV, he learned that the mangled body was that of TV show host—and his colleague—Aníbal Barrow. His image and name flashed across the screen as Alvarado clicked from channel to channel. Barrow, host of the morning show Aníbal and Nothing More on Globo TV, had been kidnapped two weeks earlier. Now, his body lay by the riverbank, his limbs dismembered, and his body burned.
Those responsible did not give Alvarado much time to recover from the shock. His phone soon chimed and a text message from an unfamiliar number read: "the same thing will happen to you as Aníbal Barrow."
This wasn't the first time Alvarado received death threats for his work as a journalist covering crime in Honduras.
Before he was kidnapped, Barrow had taken on a difficult story. According to Alvarado, Barrow exposed a list of narco traffickers, soon to be extradited to the United States, on his show. Alvarado says Barrow's murder was aimed at sending out a clear message to both journalists and activists in Honduras: if you investigate the drug cartels, you'll suffer the consequences.
"It was a message for those who dare to speak about this," he says.
Alvarado also hosted a weekly show: Docufilmes, which aired Saturday nights on Globo TV between 9 p.m. and 11 p.m. During those two hours he interviewed people about current events while giving viewers in-depth analysis. Like Barrow, Alvarado tackled issues like militarization and drug trafficking in the region. Since 2007, when his career first took off, he had deepened his journalism research in this space, travelling to the U.S. to interview experts about their military's influence on violence and gangs in Honduras, Guatemala, and El Salvador, also known as the Northern Triangle, or, as he refers to it: the "headquarters of organized crime."
Fearful for his life, Alvarado cancelled the program in August 2013 and fled to safety. He left San Pedro Sula and kept a low profile by living in small, rural towns for several months after. In 2014, Honduras established a PEN International centre and a year later it launched an investigative reporting contest called Escribir sin Miedo or To Write without Fear. The award was $1,500 (U.S.) and a trip to Canada to meet with the members of PEN Canada.
"I was really motivated to write something because I had a lot of information and a lot of things to say," says Alvarado. His essay titled "Honduras: The Process of American Remilitarization and the Failure of the War on Drugs," which details the military coup and the resulting militarization of Honduras, won the top prize.
The trip to Canada proved fruitful. Upon hearing about his untenable situation in Honduras, PEN Canada members supported Alvarado's decision to make a permanent move there. Three months after applying for the visa, Alvarado was approved. He packed his bags and took the first flight out.
'What would it be like to be a journalist in Canada?' he wondered.
During the rise of an oppressive regime, attacks on journalists and the press typically also grow. When the de facto government headed by the Speaker of Congress, Roberto Micheletti, took control in Honduras after a failed military coup in 2009, civil liberties including freedom of expression and freedom of the press fell into decline. In the first three years after the failed coup, 20 journalists were murdered, according to a Human Rights Watch report. The state's relationship with the press continues to be oppressive today. Honduras ranks 146 out of 180 on the 2019 World Press Freedom Index, which measures media independence, censorship, and transparency of news among other factors. By comparison, Canada comes in at number 18.
For journalists escaping persecution, the danger of doing journalism in Canada appears non-existent. Here, working journalists don't face the same kind of threats as they pursue investigative stories. Canada is one of the top global destinations for refugees in general but it is also seen as a safe haven for refugee journalists. A 2008 report from the Committee to Protect Journalists (CPJ) identified Canada as one of the top five host countries for journalists in exile.
[su_quote]His phone soon chimed and a text message from an unfamiliar number read: "the same thing will happen to you as Aníbal Barrow" [/su_quote]
Indeed, upon arriving in Canada, journalists like Alvarado say they feel safe. However, the price of finding a new, safer home is often the loss of their professional identity. Once flourishing journalists fulfilled by the stories they covered, their transition into life in Canada translates to a repression of their journalistic identities.
"We fight a lot of monsters in Honduras but there's different demons to battle in Canada." says Alvarado.
There is a disconnect for exiled journalists in Canada between the people and culture of their new home. The same journalists who tackled news stories in their home countries like diligent hawks scouting for prey, say they struggle to have that same eye for news in Canada. Cultural and language barriers are an obvious hurdle but there are other realities to face, too.
Many refugee journalists who find their way into Canada are supported by PEN International, which helps writers of all backgrounds including authors, poets, and playwrights. The organization runs a Writers in Exile program, which tries to create a support network for expatriate writers in a new community and helps them continue their careers in Canada while building on their professional skill sets. But assisting journalists with this transition is further complicated by the current media climate in Canada, where over 250 publications have shuttered over the span of ten years, between 2008 and 2018. Shrinking newsrooms leave little space for existing voices, let alone new ones.
"Journalists in Canada are struggling to get employment so when you add into that someone who doesn't have Canadian experience, doesn't have the same level of English, doesn't have connections in newsrooms—it's very, very tricky," says Brendan de Caires, PEN Canada's executive director.
Yet, as newsrooms are becoming smaller, PEN Canada is seeing more journalists come through its doors than any other type of writers, says de Caires. In recent years, the organization has seen increased numbers of journalists from Turkey, Mexico, and Latin American countries. de Caires says this influx is driven by more discernible crises which force journalists to flee.
Once here, refugees assess their marketability and take a little time to settle in before scoping out opportunities for employment. Journalists, accustomed to the pace of the never-ending news cycle, move faster. Alvarado identified some of the hurdles almost as soon as he landed here.
"In my first two weeks in Canada, I knew that doing media here, especially in English, thinking in English, it was going to be really hard," he says.
Back in San Pedro Sula, he had deep connections and a solid career reporting on political news. His knowledge was extensive and he could especially weigh in on militaristic and geopolitical matters related to the region.
"Toronto is a dark city. It's like a jungle with different animals, different species, different everything," says Alvarado. "I'm still trying to adapt to the abyss."
Journalists like Alvarado come to Canada with an extensive range of career-specific skills, gleaned, in particular, from years working as war and crime reporters. Once here, they find it difficult to get hired at Canadian media organizations because they lack what the industry demands: "Canadian" experience. Although they carry experiences of reporting in war-torn countries, journalists like Alvarado, who has been working as a cook in one of the University of Toronto's kitchens after arriving in Canada, are funneled into jobs they never expected to do.
[su_dropcap style="simple" size="10″]A[/su_dropcap]rzu Yildiz had become accustomed to putting a stack of pizza boxes in a delivery bag and rushing off to fulfill orders around East Toronto at the Pizzaville she worked at after coming to Canada. While dispatching orders, she rarely focused on pizzas, her mind constantly alert to the news around her. Even when she was driving to deliver the pizzas or waiting for someone to answer the doorbell, she found herself searching for something out of the ordinary.
"What's the news here?" she kept asking herself. She'd been a working journalist for over a decade and it was hard to shift gears.
Back in Ankara, the Turkish capital and her hometown, Yildiz made her living as a court reporter. In 2015, a little over ten years into her career, she landed a major scoop. While making her daily rounds in the court, she came across a group of prosecutors who had discovered that the Turkish intelligence service, MIT, had sent convoy trucks bearing arms to aid Syrian rebel groups in 2014. In a closed court trial, the government accused the prosecutors of treason and espionage, found them guilty and threw them in jail. Yildiz says they remain imprisoned today.
Yildiz had obtained access to a secret video recording of the court proceedings. She pitched it to numerous news outlets but none of them wanted to risk taking on the government. In May 2015, she, herself, released the video on YouTube. The government charged her with breaching court confidentiality and tried her in a kangaroo court. Yildiz was sentenced to 20 months in prison and stripped of custody over her two daughters in May 2016. Yildiz went into hiding, taking her daughters with her. She kept a low profile for five months before she decided to flee Turkey.
On July 15, 2016, a sect of the Turkish military tried to overthrow the Turkish President Recep Tayyip Erdog˘an in a failed coup. This was a turning point for Turkey; anyone who appeared to oppose the government was arrested by emergency decrees. Journalists like Yildiz who pulled back the curtains to reveal corruption and injustice were directly targeted. Since then, around 175 journalists have been arrested and hundreds more are on trial, according to a report by Human Rights Watch released in 2019.
Yildiz was fortunate to make it out. She arrived in Canada in 2016 via a circuitous route. She first trekked from Ankara to Istanbul to Edirne, then walked a few hours to the Greek border on foot before finding passage to Canada through Paris and then New York. Her name features—alongside numerous other journalists and colleagues—on a long, public list of wanted criminals in Turkey. Among them are her friends Bilal Şahin and Kamil Maman.
When journalists across the country were getting arrested and seeing their names on the wanted list, Yildiz called Maman.
"What are we going to do, Kamil?" she asked him. "We could go to prison."
"Okay, we can go but if we try to escape, they can also catch us in the airport," replied Maman. They were cornered.
Amidst the danger, both chose to flee—wearing their escape stories as badges of honour, indications of alternative lives led.
Maman's passage to Canada, for instance, involved a detour through Tanzania. At the airport in Turkey, with a small bag in tow, he convinced immigration officials that he was a tourist going on vacation. Stamps in his passport from the Philippines, Singapore, and Thailand seemed to support his case and he was stamped through.
In fact, Maman was an investigative reporter, whose work appeared in several Turkish publications, including Zaman, Yeni Şafak, and Bugün. He had spent months investigating organized crime within Turkey, exposing underhanded deals between Turkish and Iranian officials in contravention of Turkey-U.S. ties and sanctions on Iran. The investigation took months of combing through documents, MIT operations and government ministers.
When he arrived in Canada in April 2018, it was with a fake passport and a fake Canadian visa. He sought asylum as an exiled journalist under persecution. He is now taking English classes at George Brown College and runs a YouTube channel about politics with his Turkish friend Ismail Sezgin who patches in from London, United Kingdom.
[su_dropcap style="simple" size="10″]W[/su_dropcap]hile journalists are fleeing oppressive regimes to find refuge in places where press freedom has a stronger track record, this highly trained and experienced group in Europe hasn't gone unnoticed. In 2016, Vivienne Francis started a program called The Refugee Journalism Project (RJP) based in the University of the Arts London which addresses the need for exiled journalists to find access to jobs in British media organizations. The program is now entering its third annual cycle.
The program offers workshops, mentoring, a network of professionals, and publishing opportunities for the participants. Journalists who have gone through the program have been published in The Guardian, Reuters, and The Sunday Times. The program's website highlights success stories of participants who have gone on to restart their journalism career in the U.K. The project does more than provide access to jobs. Francis says many journalists have been through significant trauma, and the program works to ameliorate that impact as well.
To do so, RJP works with NGOs like the Refugee Council to deliver trauma recovery sessions for anyone who might need them. Writing about being in exile and refugee issues are often starting beats as the journalists negotiate their own lives and experiences but Francis says with time they work to find a range of stories they can report on to avoid being pigeonholed. "They are able to tell the story of migration with different details because of their understanding in that process," says Francis, "but at some point you have to move them on from writing about migration. The underlying principle is that they are journalists." Among the graduates of this program is Temesghen Debesai, an Eritrean journalist who fled his country for London after an eight-year reporting career. Debesai joined the first cycle at the RJP and then did an internship at Reuters and BBC. He completed a master's degree at the London College of Communication with a RJP scholarship funded by the school's University.
A comparable program targeting refugees doesn't exist in Canada, at least not to the extent of RJP. Exiled journalists struggle to find a way to transfer their journalism skills honed back home in a new place, with a different legal, political, linguistic, and cultural reality. "Yes, I'm an intelligent person and I know a lot of things about the Middle East, the world, Turkey, politics, history, music, art," Maman says before taking a short pause, "but you know it all doesn't work if you don't speak English well. You are nothing."
The insecurity around their English proficiency is a point of shared concern among exiled journalists. The inability to communicate can be a major blow in confidence for someone whose job is to communicate to the larger public. Angela Misri, digital director at The Walrus, says the language barrier is something that newsrooms can address. "I think sometimes people are intimidated by their English…but, honestly, if you can tell a story, we can fix that," says Misri. "We have editors, we have copyeditors, we have all the resources to help you with that. If you have a story, I want to hear it." Although Misri herself has been writing in English her entire life, she says she is used to seeing heavily marked up copies of her work. "Most of us don't write at the editor level. Most of us are journalists and we just write at the journalist level," says Misri. "When you take it to the editor level, that's where it gets torn apart and that's whether you're an incredible writer or not."
[su_quote cite="Fred Alvarado"]"We fight a lot of monsters in Honduras but there's different demons to battle in Canada" [/su_quote]

To that end, The Walrus supported a New Canadian Media-hosted series of free workshops for foreign journalists, which took place in February 2020. The goal was to help them transition their skills into the Canadian media landscape. New Canadian Media is an online publication for immigrant journalists, founded by George Abraham, a journalist whose life experiences working in newsrooms in different countries helped him navigate the challenging aspects of adjusting to Canadian media. He came to Canada after a career in the journalism industries in India, Dubai, Qatar, and the U.S. "We saw the need for some kind of advanced training for people who don't have the good fortune of going to Ryerson or Carleton or any of the journalism schools in Canada. So, this is a quick way to offer them a primer, give them exposure to some of the best journalists in Canada," says Abraham. Apart from forming connections within the industry, the workshops also focus on acceptable standards for journalistic practice in Canada. Abraham knows this is important from experience working in different countries. "I've come around to the view that although journalism is journalism anywhere in the world, different countries bring different practices to the way they do journalism," says Abraham. For example, although in Canada every story almost always has multiple sources, Abraham says that "in some other countries, you might just talk to one person and make sweeping statements—that just won't happen in Canada."
The workshops held in Ottawa and Toronto sold out, serving 120 journalists, and led to them doubling the capacity for the Toronto session to meet the demand. The Vancouver workshop scheduled for 2020 was cancelled due to COVID-19.
The question is: is the demand for "Canadian" experience overrated?
When Amina Jamal immigrated to Canada in 1991, the kinds of workshops New Canadian Media offers did not exist, at least to her knowledge. Jamal had been practicing journalism in the United Arab Emirates (UAE) for seven years. As a graduate of the master's of journalism program at the University of Karachi in Pakistan, she had the training and the expertise to transition into a journalism career in Canada. In the 1980s she had covered the Tanker Wars between Iran and Iraq, a war of strategy and political attrition, for Agence France-Presse, while also working as a copyeditor on the English desk for the Emirates News Agency. Armed with foreign experience, Jamal came equipped to sell her skills. Despite reaching out to all the established Canadian news organizations with an interest in foreign coverage, The Globe and Mail and CBC, for example, she got no bites. She walked away from meetings with a clear message: "what they were looking for was Canadian experience."
"It was very, very disappointing and discouraging," says Jamal. She couldn't understand why she even needed Canadian experience to work on the global desk. "I felt very de-legitimated; they didn't take me very seriously like I wasn't a real journalist…It was strange because on the one hand, for Canada and the U.S., oil was so important, the Middle East was so important and yet they totally didn't see my experience as important as a journalist." Eventually, Jamal went back to school, got her PhD in sociology and is now a professor of sociology at Ryerson University.
[su_dropcap style="simple" size="10″]W[/su_dropcap]hen he was a little boy in Istanbul, Bilal Şahin's dad used to pay him to read newspaper articles. At the time, he didn't quite understand the stories and the issues they covered but after years of reading, he not only started absorbing the content, he also wanted to become a journalist. That passion is evident when he talks about his career, the stories he once chased, and the events he covered. Yet, after the failed coup, Şahin's name popped up on the same list as Yildiz, and he, too, had to run. Şahin had worked for many Turkish media outlets including Bugün, Cihan News Agency, Özgür Düşünce, and TRT World. He had multimedia skills and had also done broadcast interviews that streamed across the country. His journalistic performance had also led to foreign reporting gigs in more than 20 different countries including Afghanistan, Egypt, Somalia, and Sudan.
At the Imperial Pub just off the corner of Dundas and Church streets in Toronto, Şahin drinks his black coffee while swiping through a photo album on his phone. The orange-lit first floor of the pub plays fast jazz tunes as the evening crowd starts to pour in on a cold December night in 2019. Şahin is thumbing his way through relics, old pictures of him and his colleagues in the newsroom, protesting against the regime on the streets, and at casual parties, arms around each other. He smiles, a mixture of happiness and sadness filling his face. Pointing at people in a group photo, he begins rattling off their current locations: "Jail. Jail. In Greece. Jail. In Germany. Jail." Those who made it out are scattered around the globe like marbles. Since arriving in Toronto in June 2017, Şahin first helped his friend with a home-renovation job, then worked for Uber Eats. He looked into the journalism program at Centennial College but was told he couldn't take many of the offered courses on account of his lack of English proficiency. He is currently an Uber driver, and will be starting a photography program at Centennial College in September 2020. He no longer holds that same passion for journalism.
Jamal, Yildiz, Alvarado, Maman, and Şahin share a similar view of Canadian media: it lacks awareness of the world outside its borders. "They don't understand our problems because they cannot imagine," says Şahin, critiquing the quality of coverage about global and refugee issues.
[su_dropcap style="simple" size="10″]I[/su_dropcap]t was a sunny morning in Istanbul when the Turkish police raided Bugün's news office back in 2015. Maman was dragged out violently, spat on, handcuffed and held overnight at the police station. "Journalism is dangerous because you can lose your heart, you can lose your soul," he says. He speaks of his life—violence and all—with the utmost pride. "I think when my time comes, I will do so many things for Canada," says Maman. "People are scared of danger but I'm not scared. I'm looking for it."