Behind-the-scene accounts from current and former CBC staff raise concerns about transparency, bias, and fear when pitching about the region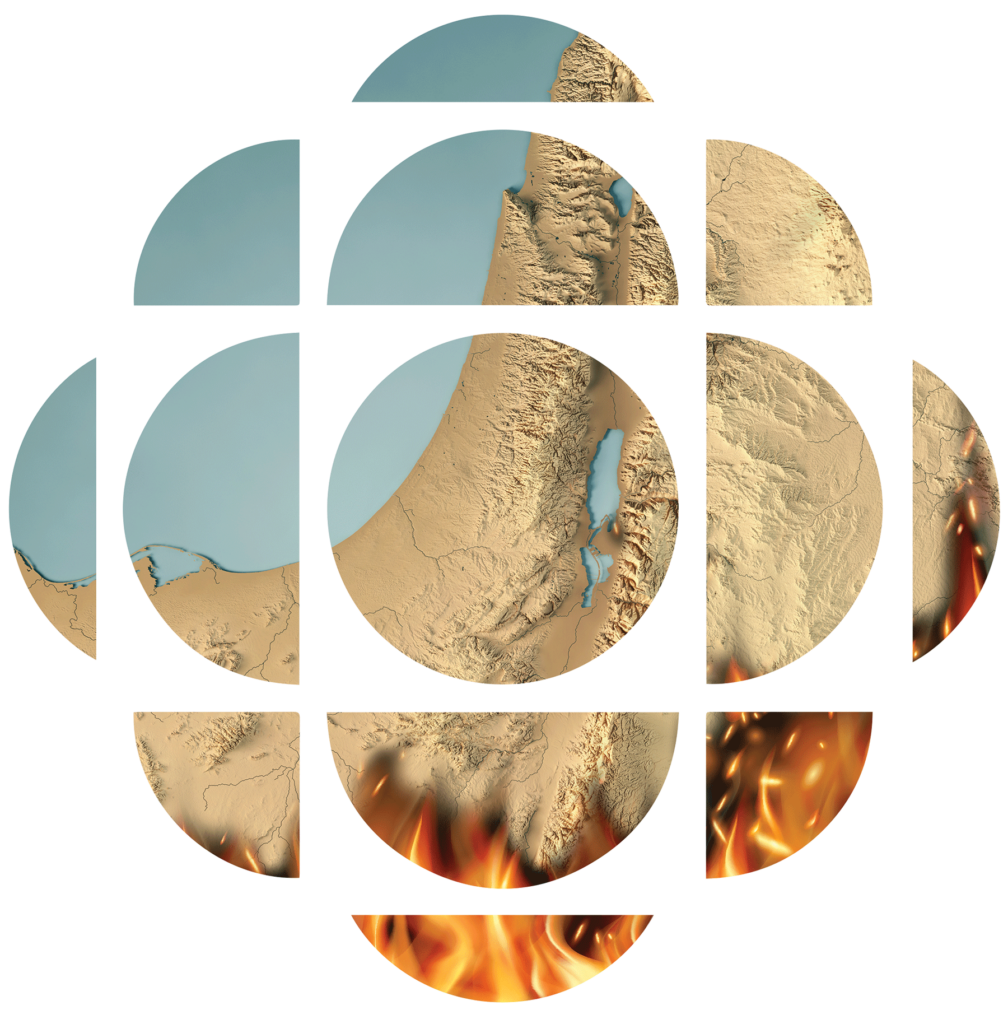 Editors' Note: The Review of Journalism spoke with numerous former and current CBC journalists for this story. All asked for anonymity out of fear of impact on their current employment and/or professional reputation. They are referred to in this piece interchangeably as journalist, reporter, staffer and employee. We thank these journalists for speaking with the Review.
Gaza's streets were full of rubble. Highrises were flattened and thick, black smoke rose into the air as explosions lit up dark skies. Nothing seemed to be off limits to Israeli rockets: residential apartments, hospitals, bookstores, schools, and international media offices were all decimated the same. In one of the most densely populated places in the world—under a land, air, and sea blockade—Gaza saw one of the worst attacks in its history in May 2021.
The Israeli occupation unleashed an 11-day aerial bombardment on besieged Gaza, leading to bloodshed and destruction. And as Israelis hid in their in-unit bomb shelters, families in Gaza gathered in one room, hoping they would either live or die together.
The human cost was staggering: 260 Palestinians, 66 of them children were killed and more than 1,900 were wounded. Over 1,800 residential units were destroyed, while 14,300 were partially demolished. During the same period, 12 Israelis died, two children among them. Three days after the bombardment started, and after the Palestinian death toll reached 137 people on May 14, an open letter addressed to Canadian news editors began circulating on social media. Signed by more than 2,000 people—500 of them journalists and media staff—the letter accused newsrooms of playing down escalating violence directed at Palestinians, both historically when covering the Israeli occupation, and during the first three days of Israel's military bombardment that month. The letter called for more equitable treatment of news coverage on Palestine and Israel, pointing out that Canadian media were taking a "selective" approach to deciding which international human rights violations to cover.
The letter itself turned into a story and point of debate among Canadian journalists, prompting multiple negative opinion pieces in the Ottawa Citizen and the National Post. One was headlined "Anti-Israel Activists Masquerading as Journalists Should Get Off the Tax-Funded Payroll." Some journalists who signed the letter reported facing consequences in their newsrooms for doing so. A week after it began circulating, Akela Lacy wrote for The Intercept that "at least three people were completely taken off coverage of the region," and two CBC journalists told Vice News they were barred from covering the violence that was happening in Jerusalem and Gaza.
Others were called into meetings with their managers. A journalist who currently works at CBC told me, "I had two colleagues who had signed the open letter; both were pulled into meetings with their managers. They were not pulled from coverage, which was interesting to me, because it seemed that there was an uneven response….I know people in other parts of CBC who had been pulled from coverage for signing the letter." Criticism over CBC's coverage on Israel's aerial bombardment extended beyond media circles. In early June, protestors mobilized by a newly created Facebook group called "CBC Palestine" and Palestinian advocacy group Greater Toronto for Boycott, Divestment, and Sanctions gathered outside of CBC Toronto and Ottawa headquarters to call out the network's "anti-Palestinian bias at CBC as well as other Canadian newsrooms."
The public's attention, it seemed, focused primarily on CBC coverage. After all, in 2021, CBC News online was the most highly consumed news source by anglophones in Canada, according to Statista. The coverage of foreign news and the analysis of it by the public broadcaster, which is partially funded by taxpayers, is critical to the public's knowledge of and engagement with international stories. What role does a public broadcaster play in contributing to a cultural narrative? How does its existence as a government-funded body impact its capacity to report independently and fairly? How does it maintain proper distance from foreign policy guidelines and approaches? Also, do behind-the-scenes accounts of newsroom decision-making reflect the failure of CBC to abide by its journalistic standards and practices to preserve transparency?
Engaging with how well journalistic principles are applied in coverage of Palestine is not a new topic. For decades now academics, journalists, and media critics have raised concerns about the lack of "balance" in coverage of incidents of international concern, as well as the occupation at large. Coverage concerns are not limited to Canada and connect to a larger conversation about how North American media have reported on the region since 1948.
When Israel launched an attack on Gaza last year, the news coverage was limited at first. Journalists and reporters at CBC told me they struggled to get interest in covering it at the story table. And as the death toll in Gaza grew, more journalists were pitching the story in daily meetings, asking that, at the very least, a guest be booked to talk about what was happening on the ground. One journalist told me that the usual practice of story approvals was subverted, and that "everything had to go through the foreign desk. We couldn't just book whoever we wanted in as we normally would. There was this extra layer of vetting."
On May 11, after a weekend of bloody attacks from Israeli fighter jets on Gaza, that CBC staffer arrived at the pitch meeting prepared with a list of potential guest names. "People who were academics and scholars, and, you know, measured. People who research this, it is their area of expertise, because I knew that this was always a contentious topic. So, I've gone out of my way to kind of bring these pitches and these names of potential people who would be quote, unquote, safe." However, the staffer said there was "a reluctance to book guests," focusing less on analysis and more on news instead. Instead of trusting the journalist's editorial judgment, the senior team member brought on a freelance reporter to cover the news story.
That same day, May 11, CBC Radio-Montreal was chasing a Palestinian voice and reached out to Mark Ayyash, a Palestinian associate professor of sociology at Mount Royal University in Calgary. Ayyash responded immediately and was told that they would love to book him on the show, but the offer was retracted shortly after because the guest needed to be a "Palestinian Montrealer." Ayyash spent the next hour locating two Palestinians based in Montreal who could speak to what residents in Sheikh Jarrah, a neighbourhood in occupied East Jerusalem, were experiencing at the hands of the Israeli military.
Yet the guest contributors he sought were never put on air—even after prescreening interviews were booked on May 12. "There is not so much as an email or a call from CBC Radio-Montreal to tell this Palestinian-Montrealer that they will not put them on the air or even preinterview them," Ayyash wrote in an op-ed for Al Jazeera English later that month titled "Urgently Needed — a 'Palestinian-Montrealer'!"
His decision to turn to an international outlet with a track record of reporting on Palestine and Israel reflects his frustration with Canadian media. After pitching multiple informed opinion pieces on the Israeli occupation to Canadian outlets without success, Ayyash said he won't bother doing so anymore. "It's obvious to me that these editors are either themselves terrified or they're ideologically committed to Israel. It's one of the two. Neither is good," he says.
Nahla Abdo, a sociology and anthropology professor at Carleton University, says that there is a "Palestine exception in Canada, and in Canadian media in particular. So, you can talk about human rights violations anywhere in the world. Don't touch the Palestinians. They're not worthy of being aired, as you know, as colonized people….If you touch them, we don't listen to you….That's the sort of general unwritten rule."
That same week, Abdo was interviewed by CBC Ottawa. Unlike Ayyash's experience, her segment did make it to air, but only on May 18, after a significant delay. "I actually told them [before the interview], 'Are you sure you're going to air it?' I know you can have an interview. The question is, 'Are you sure you're going to air it?'" says Abdo.
Five days later, the segment had still not aired. It ran almost a week later and stayed online for just two weeks, says Abdo. Then, "the whole reference to it disappeared." The link to the interview was shared on Carleton University's website and Facebook page. "Professor Nahla Abdo interviewed with CBC Ottawa's Adrian Harewood to discuss what occupation means for Palestinian life and to share her perspective on the conflict in Gaza and the current fighting in Israel and the Occupied Territories. Click here to watch the interview, which begins around 31:00." But clicking on it takes you to an error message: "404 We're sorry but the page you requested could not be found. Please try again from the home page or contact us." Wayback Machine, which provides information on the history of web pages, confirms that this link was created on May 18.
In response to a number of questions, including one about this incident, Chuck Thompson, head of public affairs for CBC, did not respond specifically but provided context for CBC's approach to covering the region. In a separate incident, a clip of CBC Canada Tonight's host Ginella Massa's interview with Gazan doctor Izzeldin Abuelaish on May 22, 2021, titled "Palestinian Doctor, Advocate Reacts to Hamas-Israel Ceasefire," was uploaded with no audio. It remained without audio for months and the error was only rectified in March 2022. In a March 22, 2022, email, Thompson explained the error was on account of "a technical glitch with the audio; it has since been fixed."
Meanwhile, dozens of reporters, editors and analysts consulted for this piece, many of whom used to or continue to work for CBC, expressed concerns to me about coverage that has been put before editorial leaders for years. Pacinthe Mattar, who worked at CBC for 10 years, primarily as a radio producer for multiple shows, including The Current, is one of the few who have spoken publicly about these challenges. In her award-winning article in The Walrus, "Objectivity Is a Privilege Afforded to White Journalists," Mattar recalls an incident at CBC that stuck with her. At a daily pitch meeting for CBC's Day 6, during the summer of 2017, Mattar pitched a story featuring Ahmed Shihab-Eldin, a journalist covering the protests at Al-Aqsa Mosque in Jerusalem. The responses to her timely pitch were highly positive, she recalls, and the senior producers said they would turn it into the lead story for the Saturday program. "From the moment I pitched having him on the show, the acting senior producer showed keen interest in the story. This enthusiasm made what happened next all the more confounding," she wrote in her article.
I asked Mattar about how the story had been axed. In a Zoom interview, she told me that she had left her desk to grab a cup of coffee later that week, having edited the segment. When she got back, the acting senior producer informed her, "We're cutting this. We don't have time to tell you why. If you want, you can take it up with the manager." Mattar was shocked that the decision was made without her input. "[For an] organization that talks about verification, transparency, accuracy, open editorial debate—none of these things happened in this decision-making process."
She says she tried over time to understand what had gone wrong and was open to hearing feedback. "I didn't even know there was a problem, even after the taping. And so the whole process by which this was pitched, approved, vetted—there were no issues with that part of the process. But then, for the interview to go completely out of the window with no conversation and without me even having an inkling of an idea that anything was wrong, really didn't sit right with me."
More often than not, the interviews I carried out for my story revealed that the silencing of certain perspectives and the quiet censorship that take place at CBC is due to a discrepancy on who is authorized—or deemed credible enough—to tell stories about the Middle East. Many employees—both current and former—shared that despite being knowledgeable about and experienced with the region, they were not being called upon to do stories related to Palestine. In one case, a former CBC employee told me they were often trusted with coverage of the Middle East and North Africa region. "Egypt, Syria, Libya, Iraq, Tunisia, Yemen…I had a beat. I have the language skills, I have the knowledge of the region, having lived there. But whenever stories came up about Israel and Palestine, I rarely got assigned to that. So it was very clear that 'Yes, you're the expert, and we trust you, and you can take on these stories,' but I started to feel and notice that when it came to this specific story, it rarely got assigned to me." On another instance, they pitched a story about the Israeli military's destruction of olive trees grown by Palestinian farmers, framing it as a kind of snapshot of what life under occupation looks like. "Stories like that were just passed on," the journalist tells me.
"I have worked enough in news to know that stories are passed on for a thousand reasons every day," they add. "Overwhelmingly, it just became very clear that it's hard to get stories about what's happening in Palestine on the air. Unless—and this is where CBC did cover it—there was an Israeli civil society group and Israeli human rights group, former Israeli politicians, even if they were more moderate, who were speaking about how perhaps Israel needs to do better by a Palestinian people…that's where the coverage often did happen…through the lens of Israeli voices on all sides of the spectrum. And that rarely happened on the opposite end."
And, they emphasized, this type of experience was not specific to any of the shows they worked on. "This was network-wide. I have friends who work in different shows across radio, TV, and in every kind of department who witnessed the same. This wasn't unique to where I was working. It was something that we talked about among ourselves, for sure." What this meant, they said, was they rarely got to do more complex stories that accurately told the story. "We never got a chance to do context stories. The coverage only really ever began when there was an Israeli death toll or rockets coming. And so, what you got is a complete absence of coverage, a complete absence of everyday life context. Only when there were Israeli casualties did the coverage begin. And so, it would always seem as if that was the starting point, without the context and what led to this flare-up of violence." "And it's again, rarely a flare-up, right?" the journalist says. "It just became a very impossible story to tell."
Greg Shupak, who teaches media studies at the University of Guelph and is the author of The Wrong Story: Palestine, Israel and The Media, points out that newsrooms fixate problematically on the issue of balance in covering the story. "For that false balance to exist, they necessarily have a very narrow set of parameters in which the discussion takes place. So, there's an almost total erasure of the Nakba as really the foundational element of what is called the 'Palestine-Israel conflict,'" he says. (Al Nakba or The Catastrophe is referred to as the period in 1948 when about 750,000 Palestinians were forced to leave their homeland). "They can't acknowledge that Israel is founded on ethnically cleansing 750,000 Palestinians, because once you do that, it's impossible to say that this is just comparable to a civil war, or comparable to two countries involved in an international conflict where it's not easy to decide who started or who is in the wrong….That's the kind of context that is all but completely left out of CBC coverage."
An example of the lack of context is a CBC report that aired on May 11, 2021. Here's the background: Palestinian families in Sheikh Jarrah were facing forced expulsions from their homes as a result of court cases filed by U.S.-backed settler organizations. This sparked protests, and Israeli forces conducted a flash raid on Al-Aqsa compound during early-morning prayers, firing rubber-coated bullets, tear gas, and sound bombs. Hamas had issued an ultimatum for Israeli forces to leave the holy site and Sheikh Jarrah.
When they didn't, Hamas launched its rockets. Israeli strikes were then directed at Gaza, leading to 30 fatalities, including 10 children. Three Israelis were killed. That day, Israeli nationalists and far-right religious extremists celebrated in the same compound where Palestinians were protesting. The report began with news about incoming rockets launched by Hamas. There was no information about forced expulsions in Sheikh Jarrah or the attacks by Israeli police on the holy site. Most importantly, there was no mention of Palestinian deaths, and the account included no Palestinian voices. Instead, it was reported: "The rockets also disrupted some of the Jerusalem Day celebrations, which marks the country's military conquest of East Jerusalem in 1967"—the military conquest otherwise known internationally as an occupation.
What the report did include was a clip from Mark Regev, senior advisor to Israel's prime minister; one from the Israeli president at the time, Benjamin Netanyahu; and another from Antony Blinken, U.S. secretary of state, who said, "Israel has a right to defend its people and its territory." The reporter ended the report by saying, "There has also been demonstrations in support of the Palestinians across the Muslim world," a comment that entrenched the stereotype of the "conflict" as being a clash between two religions. The story upset journalists at CBC, an employee told me. Some journalists, they said, felt they were under pressure to be fair and balanced when booking guests. "So, there was kind of a feeling of a double standard or some hypocrisy around telling staff that they have to be really mindful and careful about both sides."
In my interviews for this story, many journalists shared that there are special, less transparent standards that are informally applied for coverage of Palestine and Israel. Ultimately, says a former CBC journalist who worked in radio and podcast, one can succumb to self-censorship. "The anxiety level increases hugely as soon as you're in a pitch meeting and you bring up Israel, Palestine. You can see all the senior producers holding their pens a little tighter. Especially if you're a new producer, a casual hire, someone trying to break into the space, a non-white producer—it may be something that you're like, 'What are the personal consequences of fighting for this? Can I take this on right now?" They suggest the approach reflects an uncritical application of "balanced" journalism, governed by a fear of retaliation. "There's a reluctance to have Palestinians speak about their experience without it being countered with a pro-Israel voice. So, the very existence of a Palestinian becomes contentious." The journalist says there is fear of being labelled anti-Semitic by pro-Israel organizations who have made a concerted effort to conflate criticism of Israel with racism against Jews. "When coverage of the region does not fit the perspective of pro-Israel groups, ombudsman complaints are filed."
In fact, CBC ombudsman, Jack Nagler, is currently working on his annual ombudsperson report, which will detail the number of complaints he received during the period of April 1, 2021 to March 31, 2022. "I can tell you there have been more than 1,500 complaints regarding the Middle East coverage (most of it focused on events from last May)," he wrote in an email. "That is a significant number, although it pales in comparison to complaints about the pandemic, vaccines, convoy, etc."
Complaints about Israel and Palestine are likely less than those received on coverage of issues directly affecting a majority of Canadian residents, but the focus here is also on how the story is dealt with inside the newsroom.
A former CBC employee also had experiences in the newsroom that reflected a perceived fear of the pro-Israel lobby and groups like HonestReporting Canada, which describes itself as an "independent grass-roots organization promoting fairness and accuracy in Canadian media coverage of Israel and the Middle East," claiming more than 45,000 members. On the group's website, it claims that its efforts are "changing the face of the media and reporting of Israel throughout the world." In an article headlined "Uncovering Canadian Media's Devastating Pro-Israel Bias," Davide Mastracci, the managing editor of Passage, a publication with a left-wing perspective, writes, "Essentially, the way the HRC functions is that employees and subscribers scan Canadian media for things they don't like. Then, HRC staff work to get corrections, retractions, apologies, or the chance to have favourable rebuttals published by leaning on relationships with compliant journalists or using their email list to flood targets with complaints."
If CBC runs a program featuring Palestinian voices, the backlash comes quickly, says a CBC journalist. "It immediately escalates to the highest levels, and they have to deal with it. There is a lot of fear of backlash from the pro-Israel lobby, [especially] people from HonestReporting." Complainants first file a report against an episode, a news item, or a show directly with CBC. If they are not satisfied with the management's response, they can then request a public review from the ombudsman's office. A recent example of such a complaint resulted in a decision on March 23 from Nagler. It involved an episode of CBC Radio One program Unforked, which invited four guests to discuss the politics of hummus in the context of Israel. The question was, had the dish been appropriated?
The episode, which aired on July 5, 2021, featured host Samira Mohyeddin in conversation with Tracy Michael, a fourth-generation P.E.I.-based Lebanese Canadian; comedian Nour Hadidi; Laila El-Haddad, a Palestinian social activist and coauthor of The Gaza Kitchen; and Dafna Hirsch, sociologist at the Open University of Israel. The guests discussed the history of the dish and its connection to local communities over the centuries. Many people who moved to Israel, one guest said, had come from Western or Eastern Europe and had found the taste foreign and unfamiliar at first.
In breaking down the relationship between food and connection to the land, Mohyeddin asked if the association was part of a nation-state building project. The HonestReporting complainant objected, raising a number of issues with the program, each of which is typical of a HonestReporting claim: Jewish indigeneity to Israel had been ignored, the word Nakba was inappropriately used, the episode delegitimized Israel's existence.
In his report "Digesting Gastronationalism," Nagler ruled against many of these complaints but ultimately decided that the "nation-state project" language "amplified the sense that the program was not balanced." He concluded that "the real flaw here was the way the program was structured," and offered a series of alternative editorial options for how the episode could have been organized. He ultimately found "this episode of Unforked violated CBC policy. I hope that programmers will use this as a learning example to understand how the production choices they make can undermine a program which might otherwise have been fine."
Yet the focus of Mohyeddin's show was the examination of the intersection of food and politics. The show describes itself on CBC's site as one that "picks apart the food we eat to reveal the culture and politics baked into it….You'll hear sticky conversations with passionate eaters. Nothing is off the table." Prior to Nagler's report, the journalist told me that the organization's actions impact newsroom decision making. "It's quite blatantly said, 'Oh, if we do that, the HonestReporting people are going to come after us'….Not to say that they always necessarily see that as an impediment. But it is clearly on their mind. That notion of do we have the capacity and the resources to, like, deal with that backlash right now? Or maybe we throw in another voice to quote, unquote, balance it out?"
Although Palestinians and human rights groups often respond negatively to the coverage, the same journalist says the organization isn't as concerned about their reactions. "They're just not feared in the same way, because they don't have as much power and sway." At the time the journalist didn't have permanent status at CBC, so they only occasionally pitched stories on Palestine and Israel, concerned about being labelled a troublemaker or radical. Still, they have an example that reflects the challenge. "I can say a couple of times that I did produce stories that featured a critical perspective on Israel. My immediate supervisors were very involved."
In August 2019, CBC Radio One host Duncan McCue publicly apologized for using the word "Palestine" in an on-air interview. McCue, then guest host of The Current, interviewed Joe Sacco, a comic book artist and journalist, about "themes of colonialism and resource extraction" in his book Paying the Land, about the Dene people. During the interview, McCue mentioned Sacco's war reporting and work in "conflict zones in Bosnia, Iraq, and Palestine." The next day, McCue went on air and said, "Before we get to the podcast, I've got a correction to make. Yesterday in my interview with Joe Sacco, I referred to the Palestinian territories as 'Palestine.' We apologize."
Along with the apology, programmers deleted all references to the word, including the online record of that day's show. The interview is still online, with mentions of Palestine omitted. After McCue's apology aired, people took to social media to criticize CBC. At the same time, HonestReporting was "pleased to note that in the August 19 broadcast of the Current, the program issued a formal on-air correction." Ultimately, this led to a complaint to the ombudsman by Hanna Kawas, the chairperson of Canada Palestine Association.
The management response relied on CBC language guide on covering the region: "It may be worth noting that Global Affairs Canada does NOT use the proper noun "Palestine" in its overview of the Israeli-Palestinian conflict." However, does this approach raise the issue of journalistic independence and CBC's difficulty in separating its position on coverage of certain regions from Canada's official government policy? Further complicating matters is the fact that the regulatory body that governs broadcasting practices, the Canadian Radio-television and Telecommunications Commission, is a tribunal composed of commissioners appointed by the government.
CBC's language guide includes this entry: "There is no modern country of Palestine, although there's a movement to establish one as part of a two-state peace agreement with Israel. So do not refer to Palestine as an independent country without attribution or show a map with Palestine as a sovereign state. Use the term 'pro-Palestinian' instead of 'pro-Palestine' when referring in generic ways to Palestinian supporters."
In November 2012, the United Nations General Assembly granted nonmember observer status to Palestine, recognizing its pre-1967 borders and assigning it a permanent mission in the United Nations. The resolution passed with a vote of 138 in favour. Nine countries opposed the motion, including the United States, Israel, and Canada. In its guide on covering Palestine, CBC acknowledges the UN's position but also responds to it with this: "We can accurately mention this in stories when relevant. But the UN does not grant nationhood, and it remains premature to call Palestinian territories the country of Palestine." The International Olympic Committee also lets athletes from Palestine compete. The guide also notes: "But just as with the UN, the IOC does not resolve disagreements over disputed territory or declare the existence of sovereign states."
In his email, Thompson said CBC takes complaints about its coverage very seriously and that there are ongoing efforts to evaluate coverage of the region. "I should also note a group of journalists from CBC News is currently reviewing what, if anything, needs to change as to how we cover the Middle East going forward," he wrote. "Suffice it to say, we are taking all views into consideration. CBC News has been at the forefront of the coverage of this story for many decades. While we strive to satisfy our audience on any story at all times, we know that is not realistic or even possible, and so any critique of our coverage is something we take very seriously."
There is no clear directive from CBC that stipulates the culture that is reported here in this article. Most of the experiences I've heard are anecdotal accounts that bear hints of an internal directive. Yet every now and then, official notes do make it through to staff. One such incident, in May 2021, sparked outrage on social media. Laura Green, CBC News Toronto executive producer, sent an internal email that directed journalists to "avoid using Palestine colloquially in our own exchanges," so as to reduce the risk that someone might "accidentally write or say it in something that is published or broadcast." One of the sources consulted for this piece, who currently works at CBC, tells me that they had said Palestine while in conversation and was told not to do so again.
"Historically, CBC has been so concerned about being branded as being too far on the left on everything, but including on foreign policy, and especially on Palestine, they feel that they need to establish their non-left credentials….In this case, it basically means repeating the government's official line," says a former employee. Perhaps one challenge is seeing the problem as being only specifically attached to coverage of Palestine and Israel.
CBC received a barrage of public complaints about its coverage of Gaza last May. Nagler acknowledged this in January 2022 when he released a three-part review of ombudsman complaints from that time period. Oddly, or perhaps reflectively, it was titled "Israel and Hamas." "This is the first of three reviews I am releasing about CBC's coverage of last year's conflict between Israel and Hamas," he wrote. Each of the complaints was centred on perceived bias against Israel. The first complaint was that "a report on The National mixed up the chronology of events in a way that blamed Israel for the violence." The second complaint was that "an interview on the program As it Happens…revealed a bias against Israel." The third involved "concerns about the way CBC reported on casualties inside Gaza, and also about a reference to the dispute over a neighbourhood in East Jerusalem known as Sheikh Jarrah." The complainant argued that "the Palestinians who are to be evicted are not owners of the property," and that the number of Palestinian deaths reported by CBC was "the Palestinian side of the story."
I reached out to Nagler to ask why the only complaints he addressed were from people who believed CBC was biased against Israel and whether he was planning to respond to complaints about the anti-Palestinian biases. In his email response, Nagler explained that "the reason those complaints were reviewed is not because I determined these were the most important issues to explore. It's because those were the people who asked for a review." Since not all reviews are made public, Nagler also writes a column where he details escalations in or trends in complaints. He pointed me toward one from May 2021 that responded to complaints on coverage of Israel and Palestine that reflected a wide range of concerns about the broadcaster's reporting.
While the broadcaster focuses on what it calls "balanced" coverage, a series of human rights organizations are framing their concerns quite differently. In April 2021, a Human Rights Watch report, "A Threshold Crossed: Israeli Authorities and the Crimes of Apartheid and Persecution," made headlines worldwide, yet most Canadian publications remained silent. In an op-ed for Al-Jazeera, journalist Andrew Mitrovica wrote, "For CBC, a dog story is more important than Israel's apartheid." The open letter also called out CBC for failing to report on it. A source who currently works at CBC tells me a story was pitched around the Human Rights Watch report, but that the response was if we do this story, then we have to do both sides, which "is very frustrating because, since when do you do both sides of a human rights report?"
On February 1, 2022, Amnesty International published a 280-page report that echoed HRW's perspective: "Israel's Apartheid Against Palestinians." This time CBC published a Reuters wire copy story about the report. The article's headline was "Amnesty Report Accuses Israel of Subjecting Palestinians to a System of 'Oppression and Domination.'" This headline completely left out the word "apartheid," which was the main point of the report. "[On broadcast] it was pitched, but as usual the bar is really high. Domestic news took precedence; the focus was mainly on the vaccine mandate protest in Ottawa, so there was no room for this story, even as a VO or reporter package," a staffer recalls.
Despite the open letter receiving widespread attention, nothing has changed at CBC. There continues to be a surge of reporting on Palestine and the Israeli occupation every few years—last year being one of them. The trend is that coverage starts when mass casualties accumulate, and disappears when things dissipate, leaving little to no room for analysis. While it may look like it, my review of the coverage in the mainstream shows it is rarely an indication of the start or end of life under occupation.
The combination of strategy, attachment to the official government policy, and fear of response leaves journalists who want to cover the human rights angle of this story feeling frustrated and inauthentic. "I have this job where I feel a responsibility and I have a platform," says one journalist. "What's the point of collecting my paycheque and just being silent? And not using my position as a journalist to uncover truths?"