Food journalists have failed to incorporate the culture behind each bite – but a few trailblazers are giving readers the full plate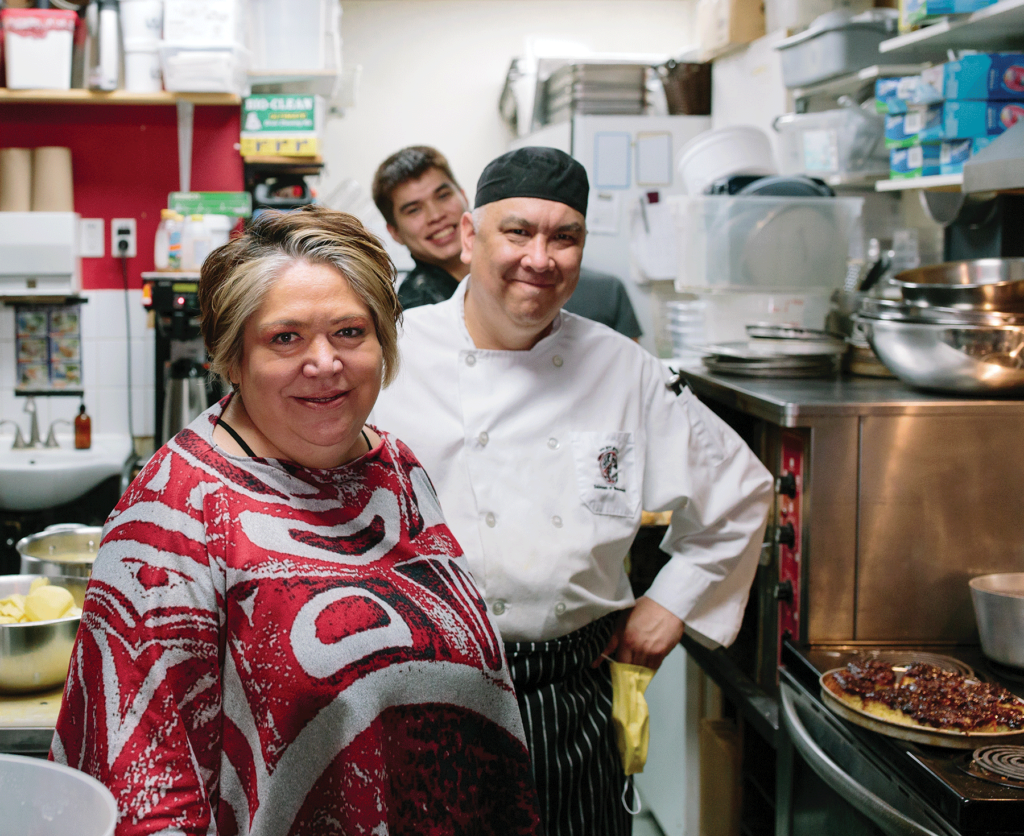 Think of a dish that brings you comfort. What is it about that food that you like? Is it the aroma from the kitchen, travelling toward your nostrils? Is it the texture of the ingredients or the memories awakened when you taste the flavours? What are these neurosensory connections? If you flip through a food publication, it can be hard to see how central our history and culture are to our consumption of and relationship with food. When Inez Cook set about establishing Salmon n' Bannock, she was looking to create a space "in the spirit of First Nation's traditions." The restaurant would be "a gathering place where the focus is on the people and the food." However, for Cook, the work of opening pathways to cultural memory required an expedition into her past and that of her community.
As part of that journey, she has also documented her own story in her book Sixties Scoop, in which she shares how, as a child, she was taken away from her family and culture, and adopted. This was part of an organized national approach to continuing a centuries-long tradition in Canada of "taking the Indian out of the child." To bring Salmon n' Bannock to life, Cook also had the difficult job of recovering, then building, memories around food and community that she had been robbed of. "Being part of the Sixties Scoop, I had not grown up with my culture or heritage and it was necessary that [the food] was authentic." She was one of the many who had not known her culture or family. Being separated from them led to her experience of not being able to familiarize herself with her community. She explains her experience began through the discovery of Indigenous food, and the sense of urgency to create at least one space in Vancouver where such food is served. Twelve years later, Salmon n' Bannock is still the only restaurant that serves Indigenous fare.
Food writing is undergoing an expansion today, with writers beginning to explore the multiple dimensions of how we access and consume food, its connections to extractive resource culture (otherwise known as colonialism), and its relevance in a world engaging with the climate crisis discourse. This movement in food reporting exists in Canada due to the voices and cultural knowledge of journalists like Stacy Lee Kong, Suresh Doss, and Karon Liu. This movement also includes the presence of kitchens like the one run by Cook. Some of this can be understood through a reading of colonial practices and their outcomes. For instance, for a very long time, traditional foods from nondominant communities were absent because of the way they were sourced, prepared, or eaten.
This was particularly the case with Indigenous communities, whose stories, including those focused on food, have long been misrepresented. "A lot of food writing in North America centres whiteness. Which means techniques, ingredients, but I don't think that only applies to cultural context," says Stacy Lee Kong, founder of Friday Things, a millennial and Gen-Z-aimed pop culture publication. "I don't think Canadians have a good understanding of labour in food production, harvest, et cetera. We don't think about what kinds of food are accessible to us, and how or why they may not be accessible to others." For instance, competitions like The Great Canadian Baking Show showcase the diversity and food knowledge of entrants across the country. However, while these newcomers represent a diversity of cultural experiences, the central competition is always centralized on European or North American pastry and pie dishes rooted in white culture. It is often left up to the contestant, who may be racialized, to interpret the dish in the context of their cultural experience of food and flavour. In journalism, the point of departure is Western and white. "We need to decentre whiteness," says Kong. "When racialized folks are telling these stories, and we no longer assume that our audiences know nothing about 'ethnic' food, we'll be able to go so much deeper."
The most devastating impact of cultural theft, in relation to food in the media, is connected to the story of Indigenous communities. During the 1800s, more than 100,000 Native Americans were evicted from east of the Mississippi River to the Indian Territory, located in the U.S, which disrupted their traditional foodways and food sources. This led to government-issued rations that were not part of the Indigenous diet, such as canned meat, which increased the risk of diabetes. With their traditions and knowledge no longer being passed down, Indigenous communities experienced food insecurity. A 2021 article, published on the National Center for Biotechnology Information website from the Nutrition North Canada subsidy program, a program implemented by the Government of Canada to help essential nutritious food items be more affordable, states that 41 percent of Indigenous households on reservations in Nunavut have food insecurity.
As a result of the Indian Act, many Indigenous people were sent to jail for holding ceremonies that were traditional to their culture. Not only that, but they were restricted from travelling, which led to less hunting and gathering for their needs and kept them from being present in their culture. Children taken into residential schools were forced to adopt a Western diet. Consequently, the impact on cultural food knowledge was devastating. For Cook, her food journey is connected to her profession. A former flight attendant who travelled across the globe with Air Canada, she had long wanted to open a restaurant, one "that would take people on a journey. I never realized the journey I would take guests on was within."
In September 2009, Cook was driving through Kelowna, B.C., during the region's wine festival, when she spotted a big sign that read, "Don't panic, we have bannock." She drove straight to the restaurant and made herself at home. The moment was meaningful, and it was then that she realized what kind of restaurant she wanted to open. An intense months-long period followed during which she received a lot of support from the Kelowna owners. It all led to the opening of Salmon n' Bannock on February 15, 2010, with a small but special menu. Along with that journey, Cook also had to navigate her culture and heritage. She had expected "hugs and happiness, unicorns and rainbows" from the Indigenous and the non-Indigenous communities, but nothing quite like that happened. Since she wasn't known to the food community in Vancouver, she didn't get embraced by it either. A few initial reports were published noting that Salmon n' Bannock had opened.
After that, Cook received some visitors. They came from her community, the Bella Coola-based Nuxalk Nation, to see whether her restaurant was a case of cultural food appropriation or if she was genuinely Indigenous. No one knew her, but Cook knew her mother's first name and, through a series of interactions, was soon connected with a maternal uncle and community elders. In time, she was invited to the community and given her Nuxalk name, Snitsmana, meaning "protector of the sacred dance, and lively." Her restaurant is Indigenous-owned and Indigenous-staffed. Her staff represent the Cowichan, Haida Gwaii, Lil'wat, Musqueam, Nuxalk, Tla'amin, and Tsleil-Waututh First Nations. It serves elk, bison, deer, and a variety of jams and jellies made with seasonal ingredients from the land, such as squash, corn, tomatoes, and more. Reviewers have called the food "fusion," something that irks Cook to no end. "People can't wrap around having an Indigenous restaurant, so they say it's fusion….We are the only Indigenous restaurant [in Vancouver]. Why would we be fusion?" Those who get to write about food help readers and listeners absorb its relevance and authenticity. It also connects to a larger debate around appropriation and repackaging.
In January 2017, Lorraine Chuen, a Toronto-based writer and the co-creator of the now-defunct data-journalism website Intersectional Analyst, published her findings on who gets to write about food for The New York Times. Specifically, Chuen had scraped the publication's cooking section to determine who authored recipes from a range of cuisines. After she had dug into the Times' vast catalogue of 17,000 recipes (now over 19,000) and scanned the food section's 1.25 million-follower-strong Twitter account, Chuen arranged bylines by "ethnic groups" and found that racialized writers did not write their own recipes related to their ethnic region. Those who did were only a small percentage of the recipe creators. The data showed that 55 percent of recipes for Chinese, Indian, Vietnamese, and African dishes were by white writers.
Specifically, these were the numbers Chuen found: 216 dishes were categorized as "Indian," but less than five percent of Indian recipes on the Times site were created by Indian writers, while 90 percent were created by white people; the number of "Chinese" dishes was 263, while only 10 percent of the recipes were created by Chinese writers and 90 percent were created by white people; and the number of dishes categorized as "African" was 86, and 84 percent of these were authored by white people, whereas three percent were written by Black people.
A few months before Chuen's piece was published, a controversy broke out at Bon Appétit, a U.S.-based monthly food magazine. Chef Tyler Akin, who is white, talked about a Vietnamese noodle dish and titled the item, "PSA: This Is How You Should Be Eating Pho," and provided readers with no cultural background about the dish. In the video, which has been removed since the incident, Akin demonstrated the "proper way" to eat pho, enraging Bon Appétit's more travelled audience. Bon Appétit's then editor-in-chief, Adam Rapoport, who also faced controversy at the magazine outlet for being racially insensitive in a photo portraying brown face, apologized. Four years later, the publication was embroiled in yet another controversy. In December 2020, Bon Appétit published a recipe for a Haitian soup but altered its ingredients. This recipe, soup joumou, is culturally and historically significant in Haiti. Prior to 1804, under French rule, Black people and slaves weren't allowed to have this soup. Once Haiti gained its freedom, the soup was one of the many important aspects that became a national symbol of liberation from slavery for the country, and gained its independance.
Soup joumou contains stewed beef, squash, potatoes, and more. Bon Appétit's version instead included nontraditional ingredients, like candied nuts, coconut milk, and cinnamon sticks. The magazine created a fusion style, but did not clearly explain this to readers, since the ingredients used were not native to the Haitian dish at all. Although the recipe was changed after numerous complaints about it, there was still no indication of an awareness of the cultural significance of the dish and its meaning to the community. After posting the recipe details on the publication's website, over 700 readers left a one-star review and criticized the lack of appreciation for the cultural dish. Bon Appétit has since apologized for misrepresenting this recipe.
A white, Western lens also impacts food photography. It's a topic that Zahir Janmohamed and co-host Soleil Ho have discussed on their podcast Racist Sandwich, which focuses on food, gender, and race involving restaurants, along with pushing the boundaries of food media. In an episode titled, "What's So Political About Food Photography?", the duo discusses aesthetics within food photography. "We looked at the overstylized dishes of Asian American food," says Janmohamed, who found that images from non-white cultures were often exaggerated to display its lack of whiteness. For example, in the episode the duo discusses how chopsticks are often placed next to Asian dishes. "It's insane! Would we put the Statue of Liberty next to a photo of a hot dog? Photography that overstylizes dishes can otherize people."
So, what is one way that journalists can cover food stories without taking over the food's history or culturally appropriating it? Korsha Wilson, a food journalist who has written for the Times, explains a way to report on food that appropriately credits its roots. "Food is constantly evolving and changing to reflect our times, convenience, and access to ingredients. That being said, one of the things I always try to do with recipes is make sure I feel like I can speak to that dish's origins, or speak with someone who is an authority on that cuisine, and give them proper credit. I think the biggest thing is respect." Wilson explains that being honest about creating recipes, while respecting the origins of dishes, is a way we can avoid being appropriative.
Karon Liu, a food reporter for the Toronto Star, has spoken about some of the ways we can make food and culture more prominent in writing pieces without cultural barriers. "A lot of it has to do with the writer. You have to really believe in the story and have to be excited about it as well. You can tell from the writing. A lot of the equality problems we have has to do with who [is] telling these stories or deciding what gets published." Liu also considers other cultural aspects minorities face and suggests a shared approach to storytelling. "As a minority, there's also awareness that you cannot speak for all minorities. You can't speak for everyone because there are cultural blind spots….Sometimes you also have to be aware of yourself. Like, okay, I am not the person to do this, but the other person would be perfect for it." It will help, he says, if there are more diverse teams of writers, editors, and publishers across cities using their own experiences to understand the stories they share.