Get the most clicks on your climate stories with these hot tips!
When it comes to climate reporting, mainstream media tells you one thing: unprecedented weather disasters are happening at a rate that borders on the apocalyptic. However, reporting on global incineration doesn't have to be all doom and gloom. With these tips, enviro-journalism can focus on chipper feelings! After all, who wants to throw their back out shoveling snow every winter? Come on global warming, bring on the heat!
Pollution? More Like Pal-lution!
The biggest problem with journalists these days is no one wants to be friends anymore. Reporting on climate change means our beloved besties plowing down the rainforest may not like us. Let's put aside our silly differences and come together for a cause that is truly meaningful: more insta followers! Pal it up with your local oil CEO, your deforestation dude. Fraternize with the frackers. Drop a line to the people building pipelines. Being nice to these guys may forever tarnish your journalistic integrity, but you'll gain some amazing sleepover buddies! Imagine the (Texas) tea they'd spill!
Green Paint = Green Values
Climate change doesn't count if we just shop our way out of it! If there's one thing our dear friends in PR know, it's that looks are everything. Can it really be considered bad for the environment if your product is packaged in an adorable pastel green? Slap your favourite lead paint on anything so long as it looks like leaves. Throw in the word "biodegradable" (even though it all goes in the trash anyway) and you've got a winning—and money making—combination! This is the Mother Earth we desperately need.
Save the Trees, Screw the Turtles
Sorry-not-sorry Franklin, but disintegrating straws in our venti iced caramel macchiatos (made with almond milk) is DISGUSTING. Bring back the plastic. In fact, big media needs to invest in more plastic. Move over newspapers, let's make our publications newsplastics. In fact, we can avoid hurting any more habitats by simply making everything out of plastic! Why has no one thought of this before? I think we just solved climate change!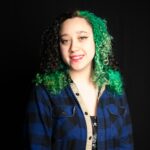 Asha Swann is a multimedia journalist based in Toronto who writes about identity, climate change and culture. Her work has been featured in Xtra, The Nature Conservancy of Canada, STYLE Canada, Indie88, NUVO Magazine, Brightly and more. When she isn't writing, she's listening to '90s music and drinking coffee. You can read more of her work at ashaswann.com.