Saskatchewan has lost 20 percent of its community newspapers in the last three years. Tara de Ryk decided the Davidson Leader wouldn't be the next to close
After 21 years at the helm of a rural Saskatchewan newspaper, Tara de Ryk decided she'd had enough.
"I was just burnt out and exhausted. And then I'm like, 'Why am I doing this?'" de Ryk says. The total daily commute from her home in Saskatoon to the office of the area's weekly community newspaper, the Davidson Leader, in Davidson, Saskatchewan, takes more than two hours. After a full day of reporting, editing, and publishing duties, she'd often work another two hours from home, finishing stories to make the print deadline.
By the summer of 2019, her daily grind as the Leader's publisher had reached its tipping point. De Ryk wanted more time with her three children and summers free to visit her aging parents in Ontario. She decided to retire from the newspaper business. The problem was, who would take over? Newspapers from slightly larger communities such as Moosomin or Biggar could likely draw prospective buyers, but de Ryk wasn't sure about Davidson, where the total population is 1,048, and the paper's subscriber base is around 1,300, including subscribers from surrounding communities.
Community newspapers have struggled to stay afloat across Canada. In a 2020 report, the Local News Research Project found that 195 of the country's community newspapers have closed between 2008 and 2018. Saskatchewan, like many provinces, has watched community media organizations slowly dwindle. "We have lost 20 percent of our newspapers in Saskatchewan over the past two or three years through mergers, closures, and everything else," says John Hinds, president and CEO of News Media Canada, a national newspaper association that provides advocacy, marketing, research, and an awards program for members.
De Ryk started at the Leader as a reporter and editor in January 1999, and purchased the paper in November 2003. She won't say exactly how much she paid, but it was more than $100,000. Back then, de Ryk was already running the publication and decided to jump at the chance when the previous owner wanted to retire. The paper was earning money, she says, and she made back her investment within a few years, then saved for her own retirement. "It was very rewarding in that way. I have no regrets about that, and I made more money owning the paper than I ever would have as a reporter."
Last summer, de Ryk announced in the Leader that the paper was for sale, but there was no interest. By the fall, she was considering just closing it down. Local residents, like Marcia McIvor, asked her to reconsider. "I was devastated. Lots of people around Davidson were. They did not want to see it close at all," McIvor says.
About 40 percent of the Davidson area in south central Saskatchewan — including the communities of Bladworth, Kenaston, Hanley, Dundurn, Elbow, Loreburn, Imperial, and Craik — subscribes to the weekly paper. By comparison, the Toronto Star's total readership — circulation and counter sales — was 30 percent of Toronto residents in 2019.
Steve Nixon, executive director of the Saskatchewan Weekly Newspaper Association, also didn't want to see the 116-year-old paper disappear. He thought there could be "some young up-and-coming good journalist who has no way of financing their way into a business like this." Nixon suggested a 500-word essay contest to narrow the competition to those who understand the industry. "A good story in a newspaper is usually 500 words or less, which is challenging," he says. De Ryk thought it was a good idea, but also "kind of crazy."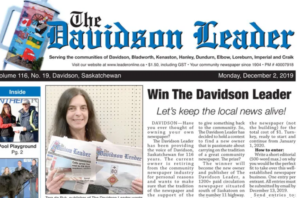 There hasn't been a contest of this type in Canada, says Hinds. Publishers have sold papers for much less than their value, but neither Hinds nor Nixon had heard of a contest in Canada. "It's pretty rare," Hinds says.
"I don't think anyone would buy a weekly newspaper in Davidson, Saskatchewan," de Ryk says. In fact, de Ryk had settled on closing the Leader until Nixon came up with the contest.
With little to lose, de Ryk announced the contest on the front page of the Leader on December 2, 2019. The headline read, "Win The Davidson Leader, Let's keep the local news alive!" The price of entering the essay contest was just $1. It drew attention from CBC, CTV, and Global News, and spread on social media. Entries came from Alberta, Ontario, Saskatchewan, and one as far away as the Maritimes – just over 20 in all, de Ryk says. Only a handful seemed viable. The new owner had to know how to run a newspaper and be close enough to report stories locally.
After conducting a round of interviews, de Ryk chose Your Saskatoon News owner Dan Senick because of his prior experience running a paper. Senick was the general manager of the Saskatoon Express before it closed in May 2019. When that paper shuttered, he offered as much freelance work as he could to staffers from the Express, who he brought over to Your Saskatoon News. There still isn't enough work for full-time jobs, but after he bought the Leader, Senick was able to offer his team more contract work. "I know our group can keep the Davidson Leader alive in the community and as well help support our company so our Saskatoon newspaper also continues," Senick wrote in his essay.
Senick kept the office space, and the office manager, Dianne Murfitt, in Davidson. He hopes to acquire more papers in the future. "That is our whole objective. We can add another one or two papers easily with the group we have put together," Senick says.
Senick took over the Davidson Leader in January and published the paper's first edition on January 13. The format of the weekly paper remains the same, with dispatches from community correspondents in Elbow, Craik, and one correspondent for the Loreburn and Strongfield communities. The paper also includes feature stories, sports, and briefs. Senick added a travel page, which will feature a story each week contributed by staff or freelancers writing about places they have visited in the past. While the paper does not currently have a budget to send reporters out to travel, readers are also able to submit their own travel stories to print. Senick also hopes to increase advertising revenue with a new monthly section called Living 55+, focused on the 55 and over demographic. The retirement living supplement runs once a month, bringing the 16-page paper up to 20 pages.
According to Statistics Canada, approximately 43 percent of Davidson residents were 55 years and over at the time of the 2016 census. In the surrounding communities of Loreburn, Hanley, Elbow, and Imperial, the largest age group is 60 and over.
Senick isn't the only person working to keep newspapers open in Saskatchewan. Small business owner and long-time Biggar resident Dale Buxton bought The Biggar Independent in November. The previous owners of the paper were retiring, Buxton says. He won't say how much he paid for the paper, but feels it was a fair price. Buxton says community support for the paper is strong. He has no trouble finding local advertisers, including a furniture store, car dealerships, and drug stores.
There are still about 50 small community papers in Saskatchewan, Nixon says, adding that a print newspaper is more than just a way to learn about current events. "People prefer the print product in a lot of these communities; they want to pass it on to the other people in the household, they want to stick things on their fridge. They want a scrapbook because this is their history. This is about them."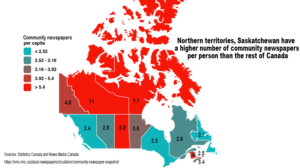 Davidson resident Vanna Shaw reads the Leader for news she can't find anywhere else. "They cover town council and what they're up to. They cover the hockey teams that play here. I belong to the bridge club. They put the winner of the weekly bridge tournament in the paper," she says. "The people that don't live here know that we are still alive that way, if they occasionally see our name in the paper."
Nixon thinks there is life in community newspapers in Saskatchewan. "The reality is, you don't have one thing that fits everybody. So you can't make up something that works in downtown Toronto and expect it to work in downtown Ituna, because it doesn't. It's different. Everybody wants to have this one kind of model that fits everybody and it just doesn't happen. Saskatchewan is different. We have to recognize that it's different."
Saskatchewan has a larger number of small communities compared to other provinces, Hinds says. The newspaper is a community hub for many of those rural towns. In the February 10 edition of the Leader, the cover story is about a local librarian. The issue also features updates on local events, and a profile of a former local resident who, now a mature student, is finding success on the University of Saskatchewan's track and field team.
"I think it is particularly important if you want to maintain a sense of community identity," Hinds says. "In many places without a newspaper to reflect the community news, information, and discussion—it's really the community meeting place. If you lose that paper, you lose in many ways that community."