When journalists "parachute" into communities during tragedies, what does that mean for the people they cover?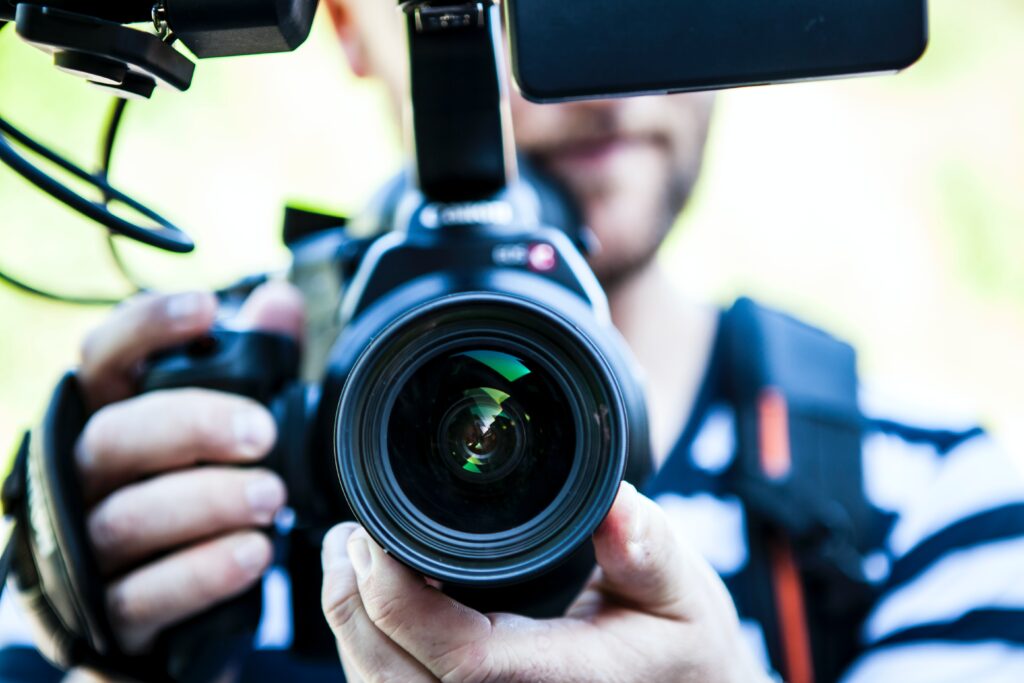 About a year into my journalism degree, I felt something like a golf ball in my throat when I would begin the process of writing a story. It happened around the same time I read Susan Sontag's 1977 essays in On Photography. "To photograph is to appropriate the thing photographed," she writes. "It means putting oneself into a certain relation to the world that feels like knowledge—and, therefore, like power." Although Sontag was writing about photographs, the written work of the journalist has a similar function. Like photographers, journalists hold a distinct power over their sources. When a reporter writes an article, they freeze people and places in a moment in time, confining them within a narrative the person may not agree with or consent to. When the reporter is not from the community they're covering, the risk of voyeurism is heightened, and the results are not always accurate. Perhaps the lodge in my throat was the feeling of power.
The reporter's gaze, regardless of its well-meaning intent, ultimately poses a threat to the person or place it's covering. When done well, the journalist has the opportunity to not only see the issues happening on the ground, but bring it to the public's attention in a way that, ideally, spurs positive change. But the journalist can also transform the lives of real people into a spectacle for the reader. With the fast rate of the daily news cycle, reading the news often becomes more about devouring the trauma of others rather than committing to deep understanding and care for the people involved. It also leaves room for gaps in coverage—especially if the reporter lacks knowledge of the history, culture, and social dynamics within the community. While writing, I quickly realized that "Who is the best person to tell the story?" is an existential question facing journalism writ large. I was also not the only one asking it. But while I had questions, others had been chasing answers.
---
Although the practice has come under greater scrutiny in recent years, the problems associated with jumping in and out of communities as a reporter without information, relationships, or broader context has existed in the industry for a long time. In "Parachute Journalism," a 1997 article for the American Journalism Review, writer Sharyn Wizda popularized the term that's often been used to describe it: parachute journalism. "Accurately capturing what makes a place tick is a difficult task," she writes, "particularly when reporters are called on to fly in, capture and file quickly."
Even without the problems that arise from a lack of time and resources, a journalist's internal biases can lead to problematic reporting—whether intentional or not. For a long time, the journalism industry in the west has upheld the false notion that the white perspective is the objective perspective. More recently, conceptualizations of "objective reporting" are being debunked by figures like Desmond Cole, a Canadian journalist and activist who says that true objectivity cannot exist for a reporter. He argues that journalists are, first and foremost, human beings, influenced by human bias—to believe that journalists can write about a subject and leave a lifetime of learned and internalized prejudices at the door is simply impossible.
Edward Said's 1978 theory of Orientalism examines the white Western gaze and its distortions on a grand scale. He writes that Western media representations of Eastern societies inevitably shapes, constructs, and skews their cultural narrative. When media organizations write stories that are easily digestible for their Western readers, they leave out or misconstrue important cultural and historical context. This oversimplification of complex issues, and the tendency to write stories that imply Western superiority, harms the people from and within these communities, who then bear the brunt of the West's resulting racism and ignorance.
In trying to address these concerns, American journalist Lewis Raven Wallace, host of The View from Somewhere podcast, once taught workshops on harm-reduction strategies for journalists who wanted to avoid parachute reporting. Then, in 2020, he decided to stop teaching the workshop altogether. "Journalists, including at times myself," he says, "were looking for a justification to not change those power dynamics rather than addressing the root causes of the power dynamics, which has to do with under-resourced local media in oppressed communities." Instead, he believes that the future of responsible reporting looks like collaborations and partnerships with community-based journalism.
More recently, in a column for the Toronto Star, Shree Paradkar wrote about the "'invisibility' and 'hypervisibility'" dynamic in the coverage of the World Cup in Qatar. Shree wrote that the human rights abuses in Qatar are indefensible, but she added that Western countries are no stranger to similar kinds of injustices. In her article, she pointed out that there was no public outcry over Canada's past and present mistreatment of Indigenous people when Vancouver hosted the Olympics in 2010. In comparison, the way Western media framed Qatar rendered its abuses hyper-visible, because it easily aligned with the West's preexisting stereotypes of Middle Eastern countries. "That scrutiny," Shree wrote, "even if it's warranted, can be unbalanced, hypocritical and self-interested."
---
Laxmi Parthasarathy, chief operating officer of Global Press, grew up in Malvern, a neighbourhood in northeast Scarborough, in the late 1980s and the 1990s. To Parthasarathy, Malvern was "a multicultural haven" with dozens of ethnic groups speaking dozens of languages. But because the reporters typically assigned to cover the area were not from the community, the coverage often depicted instances of crime, violence, and civic neglect. Consequently, news coverage of Scarborough neighbourhoods, like Malvern, is consistently negatively skewed. So, in 2006, Parthasarathy founded My Roots, an independent news organization dedicated to publishing accurate and holistic narratives of Malvern written by aspiring journalists in the community. Although My Roots is no longer in operation, at the time it hosted workshops that had reporters from news outlets such as the Toronto Star and CTV visit local libraries to teach writers from the community how to become journalists.
Around this time, in 2007, Toronto Life published an article called, "The Scarborough Curse," with the subheading "How did boring, white-bread Scarberia become Scarlem—a mess of street gangs, firebombings and stabbings?" The story's author, Don Gillmor, says he didn't write the headlines, but the piece does chronicle what he described as "persistent Scarborough themes," including "transience, alienation and the uneasy threat of violence." Parthasarathy's "multicultural haven" was Gillmor's "multicultural canary in the coal mine," which depicted budding gang violence within and between Scarborough's ethnic groups. There is a stark difference between the Scarborough that these two journalists chose to cover. A key difference here is that Parthasarathy grew up in Scarborough and Gillmor grew up in Winnipeg. Gillmor's article drew the attention of Scarborough residents and city councillors, who opposed his characterization. The article left a noticeable imprint on residents. Just last month, Omer Aziz wrote in the Globe and Mail, "The story framed my community as a deeply troubled place full of criminals, a once-white town that had changed, menacingly, overnight."
Gillmor says that "The Scarborough Curse" was intended to be a deep dive into the evolution of Scarborough. "When I go back and look at it, it's negative, but it wasn't mean spirited," he says. Gillmor adds that journalists who have ties to the people and places they're reporting on might suffer from the opposite problem. "The downside of community reporting is, are you going to be relentless? Or how ruthless can you be in terms of the truth?" When it comes to parachute journalism and community reporting, Gillmor says, "I think there's room for both." But when journalists parachute into marginalized communities, they often rely on shallow observation and tropes to inform their reporting. When done once, this can cause harm to a community. When it's done repeatedly, it further entrenches and perpetuates these stereotypes. "I grew up believing I came from a really bad place," says Parthasarathy. "Another murder in Malvern, another crime in Malvern, another drug dealer in Malvern—those are the only stories that you're hearing."
---
After she left My Roots, Parthasarathy joined the team at Global Press in 2018, doing similar work, but at the international level. Global Press' newsroom model chooses local women reporters to cover stories from regions that are typically underserved by news coverage. "We intentionally hire women," says Parthasarathy, adding that, in 2020, the World Economic Forum found that only 24 percent of all news sources were women.
Local reporters, like those hired by Global Press, will speak the same language, understand the cultural norms, and have a preestablished connection with the community. Foreign bureaus that station reporters locally for up to years at a time can offer some of these qualities as well, but they are also closing more frequently. At the turn of the century, foreign bureaus began shutting down more rapidly due to budget cuts. In the United States, the American Journalism Review reported that between 1998 and 2011 at least 20 newspapers and media outlets had shuttered their foreign bureaus. In 2022, CBC announced it would be shutting down its offices in China and Russia—journalists were experiencing delays retaining visas in China, and they had been banned from Russia altogether after Ottawa had prohibited broadcasting Russian media channels.
Foreign bureaus such as the BBC, CBC, or CNN are also choosing and framing stories to suit their audience, which is predominantly white and, therefore, driven by the Western gaze. "The beauty of a local reporter is also just really seeing different sides of the story," Parthasarathy says. When editors already have a story in mind to suit their audience, they're often less willing to give reporters the time and space to investigate local issues that receive less mainstream attention.
Global Press partnered with PBS NewsHour in 2021 to amplify the investigative work by Khorloo Khukhnokhoi, one of their reporters, who had written about forced virginity testing in Mongolia schools. "Khorloo was really uniquely positioned because she not only speaks the language," Parthasarathy says. "She's a woman that attended some of these high schools and had the ability to help her sources feel comfortable to open up and share their stories." During the broadcast, PBS credited Global Press and included a translated interview between Khukhnokhoi and a source.
---
Newsroom models that centre local voices do exist. Community-centred media organizations like IndigiNews have models of reporting that leave behind the old-school methods of daily news: find the story, get the interviews, write the article, onto the next. Instead, IndigiNews focuses on sustained, thoughtful, community-driven journalism that prioritizes deep listening. Odette Auger was the managing editor at IndigiNews before joining the Watershed Sentinel in January. Before she left, Auger said that the IndigiNews model makes it a principle not to rush their stories. "We don't worry about filling a quota," she said.
When the Saskatchewan stabbings took place in September, 2022, 11 people were killed and 18 others were injured on James Smith Cree Nation and the neighbouring town, Weldon. It would soon be known as one of the deadliest mass killings in Canadian history. IndigiNews decided not to cover the attacks. As a news outlet based out of British Columbia, Auger says that "We would still be entering a community that we don't belong to." Instead, IndigiNews "went black," choosing not to publish anything during the week of the attacks in an act of solidarity with members of James Smith Cree Nation.
In contrast, Zak Vescera, a reporter for The StarPhoenix at the time, who'd driven up from Regina, recalls the atmospheric anxiety while covering the stabbings. Reporters were knocking on doors, despite residents being told by community leaders not to open their doors to anybody, as the Sanderson brothers were still at large. "I remember driving in. You had CBC and Global. Both had satellite vans there because they were doing nonstop live hits outside of the home where this man, Wesley Petterson, was murdered." Not even four days later, most of those reporters funneled out of town when a bigger story hit—the death of Queen Elizabeth II.
Ian Austen, a Canadian correspondent for The New York Times, says he was planning to write a lengthy feature about the stabbings for the Times Sunday print edition. However, there are only a handful of Canadian correspondents for the Times and so, when the Queen died, Austen knew he had to cover it. Sticking around James Smith Cree Nation wasn't an option. "The Queen's death just crowded everything else out," he says. "I very much wish we had the space and extra time to do a weekend piece, but there was no space and no editing resources." He ended up finishing a shorter story on the field where a community gathering was being held, racing to file it while sitting in the rain.
Although she avoids parachute reporting, Auger is no stranger to the weight of covering sensitive stories. When Jared Lowndes was killed by the Campbell River RCMP in 2021, Auger interviewed his mother, Laura Holland, for IndigiNews. She remembers feeling a wave of anxiety while waiting for her to pick up the phone. "I felt like I lost my bearings a little bit," she recalls. But when Holland answered the phone, Auger tapped into their shared experiences as mothers, speaking to her several times off-the-record before recording their interview. "Some stories take time, and they take extra care to get them right. And some of them are so crucial in getting right."
Despite the obvious problems associated with parachute journalism and the inherent structural difficulties in dealing with them, people who are underrepresented in mainstream media remain hungry for stories that reflect their lived experiences. After being one of the only francophone reporters covering racial justice issues in Quebec, Lela Savic decided to start La Converse in 2020 to fill these gaps in reporting. "The journalism that was out there was not serving communities of colour," Savic, who is the founding editor, says. "It's very often done through a white lens." To ensure that La Converse reflects and serves the communities it covers, Savic created a process to vet stories before publishing. The first step is the reporter. "I hire people based on cultural competence and community knowledge," she says. Then she asks the reporter how their article will serve the community. If the reporter cannot answer this question, she does not go through with publishing it.
Wallace cites Southerly magazine in the United States as another example. Like La Converse, Southerly invests in training community members to become local reporters. The magazine's focus is on environmental injustice in the Southern states, and rather than send their own reporters to places experiencing environmental degradation, they fund a community reporting fellowship so that locals can tell their own stories. "As I see these solutions emerge, it's inexcusable for the Times or the Post to claim it's too hard to do it that way," says Wallace. "Organizations that have fewer resources are doing it that way because it's what they value."
---
Cape Dorset, a small town on the southern tip of Baffin Island, is home to the West Baffin Eskimo Cooperative, an art collective with international recognition for its fine art. In 2019, Times Canada correspondent Catherine Porter profiled one of its artists, Ooloosie Saila, whose bold and brightly coloured northern landscapes had caught the attention of fine art collectors across Canada.
Instead of focusing on Saila's work, Porter's feature focused on Cape Dorset at large, describing the hamlet as a "place plagued by poverty, alcoholism and domestic abuse," and included unverified accounts of "fume sniffing teenagers." Most notably, the feature opens with a scene of Saila, "hiding in her grandmother's room" and "cowering in fear" from a drunken relative. After it was printed, Porter's article received severe backlash, particularly from the Native American Journalists Association, which requested an audit from the Times to explain how the story was allowed to be published. "It's trauma porn," says Iqaluit reporter Kent Driscoll. "It sounds like bad pulp fiction."
Driscoll spoke to Saila about Porter's story for an APTN article after the Times's feature was published. Aside from Iqaluit, where Driscoll currently lives, he says Cape Dorset is one of the places he has spent the most time visiting. "Don't get me wrong, there is violence here," says Driscoll. According to Statistics Canada, approximately 45 percent of Inuit women are physically or sexually assaulted before the age of 15. But Driscoll thinks that Porter didn't approach the story in a trauma-informed way. "She wasn't trying to do a story about domestic violence," says Driscoll, adding, "That isn't the totality of the community." Porter declined the Review's request for an interview.
Driscoll adds that the Times would have received a more accurate depiction of Saila and her community had they hired a journalist who lived in Iqaluit and knew the customs and the local terrain. "We're spoiled for journalists here in Iqaluit," says Driscoll, which is home to news hubs CBC North and Nunatsiaq News. Outsourcing reporters would support local journalists rather than foreign correspondents with obvious gaps in knowledge. "I don't think Porter understood or had enough experience," he says, "to be capable of understanding what was actually going on in Cape Dorset."
---
As it currently operates, the beast of the daily news cycle often leaves stories, communities, and people behind. "Journalism should come together as a community and ask, who is the most fitting person to write this story," Savic says. If we reframe journalism as a collaborative industry, one where we actively critique who gets to tell whose story, the stories we do produce may lead to better coverage and stronger relationships with the public.
In 2018, Natalie Yahr, journalist for The Capital Times, wrote A Guide to Less-Extractive Reporting, which discusses best practices for journalists reporting on vulnerable communities. "A lot of journalists do care about these ethical quandaries, and do think about at least some of them, and in some cases have found some version of an answer for themselves," she says. But, if answers do come, it often follows from a series of difficult conversations. She recalled one instance where she had discussed the guide with a newsroom which, for confidentiality reasons, she prefers not to name. The editor was hesitant with some of its recommendations, and particularly the one stating, "Look for ways to give the source some editorial control." She remembers the editor saying "absolutely not." While working in the industry, he was taught that giving sources power over a story's narrative was against proper journalistic practice.
"Journalists are taught that we are independent. We don't let our sources tell us what the story is," she says, adding, "I think there's room for nuance there." The editor held power in the newsroom, and Yahr could see him grappling with the potential consequences of giving sources more autonomy. Yet, she also saw him struggle with newsroom demographics, noting that editors typically skew older and white. She says he began to question, "If we're saying we can't give the power to [sources], what consequence does that have?"