After years of complaints, police have charged two men behind a Toronto paper called "Your Ward News" with promoting hatred against Jews and women. This week, we discuss the merits of hate speech laws and how journalists should cover white nationalism.
Podcast guests:
Evan Balgord

is a freelance journalist, who often writes for Canadaland and Torontoist. His research focuses on anti-Muslim and white nationalist movements in Canada.

James Turk

is a professor at Ryerson's journalism school and director of the Centre for Free Expression
Journalist Evan Balgord welcomed the hate charges against "Your Ward News."
"When we talk about some of the worst kind of publications out there, this might be the worst thing that is widely distributed in Canada," Balgord said.
The Toronto paper often features Nazi imagery, personal attacks and offensive caricatures, and has been called misogynistic, homophobic, racist, anti-Muslim and anti-Semitic.
On November 15, editor James Sears and publisher Leroy St. Germaine were each charged with willfully promoting hatred against two identifiable groups: Jews and, for the first time in Ontario, women.
In an email, Sears said they "expect to easily beat these politically–motivated charges." He said they will launch a constitutional challenge of the hate speech law, saying it violates their right to free expression.

"We want the law STRUCK DOWN so it cannot be used to silence any other political Dissidents," Sears said in an email to a Pull Quotes producer, before proceeding to comment on her appearance.
Toronto police say they've received multiple complaints about the paper since 2015. The hate crimes unit has investigated in the past, but did not previously lay charges.
Community members have long been outraged by Your Ward News, which is delivered without consent to homes in east Toronto and other communities.
A coalition has been advocating against the paper, and in 2016 a federal minister ordered Canada Post to stop delivering it.
But there's a high threshold for hate-related charges, and police need the attorney general's approval.
"Being offensive, being nasty isn't enough to qualify as hate speech," said James Turk, director of Ryerson's Centre for Free Expression.
Turk, however, questions the effectiveness of hate speech laws. He is concerned about any restrictions on free speech, and believes the best way to deal with hate speech is for community members to publicly denounce it and rally against it.
But Balgord said it's not really possible to engage with and stop something like Your Ward News as a matter of civil discourse.
"I can't think of another way to properly address the issues of Your Ward News, because they're going to keep doing what they're doing and pushing it out to people that don't want it," said Balgord.
The saga of Your Ward News
Your Ward News has been embroiled in controversy and legal battles; a community coalition has been trying to stop Your Ward News for the past two years.
In June 2016, then-federal minister Judy Foote ordered Canada Post to stop delivering Your Ward News, calling it "highly offensive and well outside the norm of Canadian values." Editor James Sears, a former doctor who plead guilty to sexual impropriety with three patients, launched a challenge against the order. A review panel is currently conducting hearings.
Last summer the couple leading the coalition, Warren and Lisa Kinsella, launched a private prosecution against the editor and publisher of Your Ward News for allegedly uttering threats.
Lisa Kinsella is also suing the editor for defamation.
Warren Kinsella says he was relieved by the charges–but is "a little frustrated they did not happen sooner." The evidence of extreme racism, Holocaust denial and misogyny has always been in the paper's pages, he said, but "better late than never."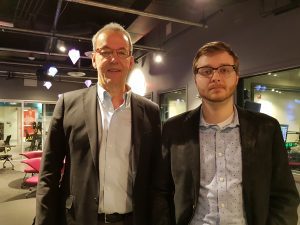 Accurate adjectives
Balgord says journalists should use accurate language when describing bigoted groups or publications, even though they may face criticisms of bias. He has no qualms about using terms like "racist," "sexist" or "anti-Muslim" if they're warranted.
"As a journalist, I don't accept that my being anti-racist is a bias," he said.
"I think that should be a baseline that we have in society that overt racism is just no-go."
Turk says people need to be wary of using terms like "fascist" or "anti-Semitic" too loosely; otherwise it strips them of their currency.
Podcast: Play in new window | Download
Subscribe: Apple Podcasts | Google Podcasts | Spotify | RSS